Want to know what it's like to give everything up and escape to more exotic climes? These inspiring travellers have made it work in all sorts of ways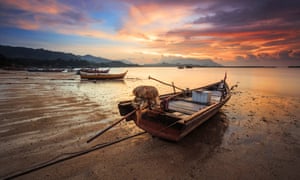 From NHS to global adventure
Emma Robson, 35, from London is an adventure tour leader
I was a cardiac physiologist working at St Thomas's hospital in London and had spent seven years working, studying and watching the NHS struggle. It was a rewarding job and I had great colleagues, but I was always restless. The idea that I could do something else came after I took a four-week overland trip to Africa with overland adventure specialist Dragoman. It was the longest time I could get off work and it was amazing. I cried when it finished – the idea had been to cure me of my wanderlust, but it backfired! The trip was led by two young women and I thought, "If they can do it, maybe I can". I applied for a job with the company as soon as I got back. The interview went well, then there was a week's trial before the training, which started last May. The hardest part was learning to drive a 13-metre long coach around London.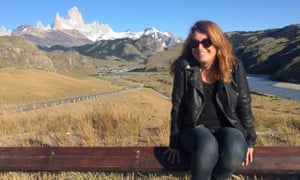 My first job was a tour of Kenya, Uganda, Rwanda, Tanzania, Namibia, Zimbabwe and Botswana. I was so excited I barely slept for the two weeks before I flew out. I spent three months there then headed to Chile to spend five months touring between Santiago and Ushuaia, where I am now. Next I'll be travelling around Peru, Bolivia, Uruguay, Argentina and Brazil.
I love the unpredictability of it. I've met so many people and there are moments that will stay with me forever – like lying watching shooting stars in the Namibian desert after everyone else was zipped up in their tents. The first contract lasts at least 15 months, which is a long time without seeing family and friends – it makes you think about whether this is really what you want to do. But lots of my friends are planning to come on trips with me, and Skype and WhatsApp are great ways to stay in touch.
I've no regrets, though it is a tough job to do long term, it's difficult to maintain a relationship or save for a house. I could go back to my old job one day if I wanted to, but right now I couldn't think of anything I'd rather be doing.
Volunteering in Malaysia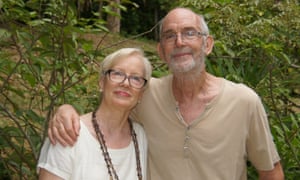 Sheila Allum, 67, and husband Philip, 76, from Colchester
I remember waking at 3am the night before we moved to Langkawi, thinking, "What have I done?" I was leaving our home of 37 years and a well-paid job I'd had for 31 years.
My husband, Philip, is a keen sailor and we had spent many holidays chartering in Thailand and Malaysia. We dreamed of retiring there with a boat to explore with. In 2007, we spent nearly a month in the region and a conversation with a couple we met who live out there set me thinking about making it a reality. When we got back I found out that my job at a car dealership was going to change considerably – an omen.
The hardest part of the decision was leaving my father (my mother had died many years before) and I knew it would be difficult for him to understand why I was giving up a good job to go far away. But in the end he came round to it, as long as I kept in regular contact and visited. Originally, we wanted to settle in Thailand but, in Malaysia, we qualified for MM2H – Malaysia My Second Home – which enables visa holders to stay for 10 years with no restrictions on the number of entries or duration of stay.
We sold our house and boat to fund the move. Philip closed his small business and we shipped out 20 crates of belongings – it was exciting and scary. I took early retirement; I was 59 and couldn't take my full pension until 65, and Philip was 68.
We rent an old wooden kampong house opposite paddy fields and share the surroundings with monkeys, beautiful birds and the occasional snake. I started volunteering for a local charity that works to improve the lives of Langkawi families and now run it day to day – it's a full-time job. It's hugely rewarding to make a difference to people's lives. We both enjoy living here: it is home now. The internet and phone line are subject to monkeys jumping on the cables and we do miss our friends and family (Philip has grown-up children in Austria, who have visited), but not the weather. There are excellent hospitals in Penang and Kuala Lumpur and the costs are very low compared with the UK. We had a dream and pursued it – we love it and it has worked for us so far.
The digital nomad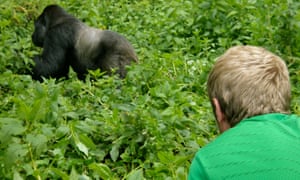 Johnny Ward, 32, from Northern Ireland has travelled non-stop for the past 10 years
By this summer I will have visited every country in the world – it's taken me 10 years and it's largely thanks to starting my blog, onestep4wards.com. It totally changed my life.
I'd always dreamed of the open road, but coming from a single parent family, I didn't have the funds to do the gap year thing, so had to work as I travelled. As soon as I finished university in 2006, I flew to the US to work on Camp America and never went back.
I taught English in Thailand and Korea, which was fun, and worked in an office in Australia. But things really changed when I started my blog in 2010. Slowly it grew and people started advertising on it, and after a while I was earning quite a bit of money. I started other sites, too, and went on to hire a small team of writers and designers from around the world. Now I manage a team with over 200 websites and blogs. The best thing about it is being totally free – I work a few hours a day from my laptop wherever I happen to be, and travel for most of the year, always spending a couple of months in Bangkok.
I've had some amazing adventures. A couple of months ago in Mauritania I rode on one of the longest trains in the world: it was 2.5km long and being used to transport iron ore from the Sahara to the coast. Guys just jump on top of it for the 14-hour journey. I've taken a cargo ship from Thailand into the heart of China, and got thrown off in the middle of nowhere in the Chinese countryside. I want to really experience every country, not just tick it off the list.
There were far fewer bloggers when I started and there's more competition now for audience and advertisers but you can still make it work.
Living wild in the UK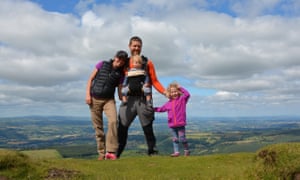 Jen, 37, and Sim Benson, 32, quit work to live in a tent and travel with their young children
Inspiration for our wild year came shortly after the arrival of our second child, Hugo. Sim was working full-time for the cycling charity Sustrans and I was at home looking after the baby and our three-year-old daughter, Eva, and writing for some income when I could.
But we desperately wanted to be treasuring these precious years rather than being apart and missing them. We couldn't afford to give up Sim's job and keep renting our house – so we gave up the house, bought a bell tent and a wood-burner and in November 2014 set off to explore wild and beautiful Britain together. We had a tiny budget, living off the income from our writing and sometimes swapping manual labour for a campsite pitch.
Since then we've spent every day together. Our family bond is stronger and happier. We've explored so much of wild Britain together too.
Having a solar shower – basically a black bag with holes in it, hanging from a tree – each day was definitely a refreshing experience. The winter storms and endless rain were a real challenge: one night, gales snapped both main poles in our canvas home.
The highlights were Dartmoor, which is like home to us and where we often camped wild, and the Lake District, where we spent a glorious couple of months, exploring the mountains with the kids on our backs and swimming in remote tarns. We spent much of the winter right by the sea in the South Hams, minutes from the coast path, discovering secret sandy beaches and rocky, pool-filled coves. The kids loved it all – there was so much freedom to simply play.
Now the year's over it's great to reflect on our amazing adventure. Whatever happens next it's a shared experience we'll treasure forever. We're moving back into a house, but we're definitely not going back to "normal". We'll be focusing on living sustainably: ditching the car and adventuring from our doorstep. We'll also be heading back into the wilds, but with a much smaller tent…
•Follow Jen and Sim's adventures at awildyear.co.uk
Colombia calling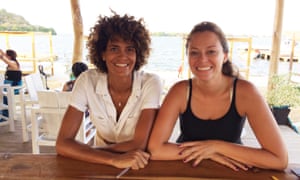 Portia Hart, 32, set up a beach club in Cartagena last year
I had been living in France for seven years when I received an offer to work in Bogotá from early 2015. I leapt at the chance to escape a depressed Europe though I would never have been brave enough to leave my secure, employed life behind without a firm job offer. It seemed a dream come true.
But in December 2014, my employer told me that they'd decided against Bogotá, would I mind relocating to Cartagena in the north? No problem. A month later, after I'd arrived, they informed me there would in fact be no office, no company and no job. So there I was in Cartagena, with only slightly more Spanish than I had on arrival, and a lot less of a plan.
Fortunately it's a small community, and within weeks I had met Lina Bustillo, who had also lived in France. We had friends in common, and we bonded over a shared frustration at the lack of places in Cartagena to eat a good dinner after enjoying the Caribbean beaches. Here was a city stuffed with hotels, fabulous restaurants and tourists arriving by plane, cruise ship and bus, but with not a single decent beach restaurant.
Lina's family had an empty piece of land about 30 minutes' drive from central Cartagena and had been considering what to do with it for some time. I spoke to friends back in England and they all confirmed what I was thinking – that very rarely in life do you find yourself in the position I was in: a ready market, no competition, and extremely low barriers to entry. I chucked in the last of my savings, a few thousand pounds, and begged and borrowed a similar amount from friends and family. We built our beach club and restaurant, El Pescador de Colores, with less than 10% of what the equivalent would have cost in Europe. We opened last November, just before the high season started in December.
I wouldn't say it has been easy and it's certainly no instant goldmine. "I own a beach bar in Colombia," is definitely not as glamorous in reality as it sounds in the pub back home. We work 18 hours a day, including doing all the business's laundry.
I've had to learn the restaurant trade, Spanish and the Colombian fiscal system from scratch, and everything takes longer, and is more complicated than it would be in western Europe, say. It's normal for deliveries to arrive days late (if at all), with half of what you ordered missing. That said, we provide 10 local people, and a couple of foreigners who've settled here, with jobs. We are helping to provide basic education and professional training for our staff, as well as English lessons. My office is a beach, I love being my own boss, and we get a huge amount of satisfaction from the small role we play in supporting the local community. I get to live in the Caribbean, instead of saving all year to pay for a week to come here. On days off we have the beach and the sea on our doorstep, as well as calling one of the world's most beautiful colonial cities home (Cartagena is a Unesco world heritage site).I'm certainly not planning on returning to the UK any time soon.
'My crazy yachting years'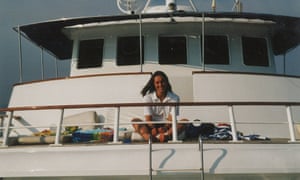 Charlotte Drury, 37, from East Sussex, used to work on yachts in the Med and Caribbean
In my 20s I worked on yachts, cooking and cleaning my way around the Med and Caribbean hoping that I would earn enough from tropical serfdom to fund more independent and intrepid travel. I fell into the industry after working on a cruise ship. I began doing day work in Miami, which led to stewardessing on charters to the Florida Keys and Bahamas, and eventually to becoming a crew chef and cookingfor boat owners too. It was lucrative but could be brutal – not just the 18-hour days, but the crew were often macho and the culture materialistic. Sometimes it was boring – once we had to clean a 50ft yacht with cottonbuds!
But the yacht world was also wonderful and dynamic. I often worked with kindred spirits and laughed a lot. I learned how to cook by helping chefs and had a few stints at modelling for brochures and delivering catamarans around the Bahamas, which was tremendous fun. The best perks were definitely the adventures in beautiful places during downtime, crossing the Atlantic was amazing – to feel so far from land and see whales and dolphins, and sunset after sunset…
Unfortunately I fell foul of a few boats in the south of France. I'm too clumsy and loud to be a good professional yachtie – one owner's wife took great dislike to me and had me fired. She'd had so much plastic surgery and botox that only her nostrils moved – it was very hard to read her face.
I decided to work on land after that, and wound up life modelling in Antibes and teaching English to ladies who were obsessed with Lady Diana and some men who wanted to learn pickup lines for a stag-do in Prague. I wanted to improve my French so I answered a newspaper advert to work in a bar called Fanys in Corsica. I didn't realise it was a (barely concealed) strip club until it was too late and although I didn't have to dance they expected me to talk to the gentlemen and sell as much champagne as possible. I learnt to say pas toucher rather quickly and became a little more fluent in French slang. Now that I am a rural housewife with a small child, living a calm and ordered life in Sussex, I look back to my crazy yachting years and smile.
For the duration in rural Spain
Paul, 56, and Sally Wright, 51, moved to a mountainous area near Benidorm
In 2004 I was a financial controller in manufacturing and Sally, my wife, was customer services manager with a building society. Maybe it was a mid-life crisis, but we just could not face the prospect of another 25 years doing the same. Without any clear plan, we sold our house and moved to Spain, eventually buying a house in a remote mountain community: the Vall de Gallinera, about 40km from Benidorm.
Our children, George, then seven, and Lucy, then four, went to a local school, where we discovered to our consternation that Spanish was not the first language. We had not realised until then that Valenciana, a dialect of Catalan, was what was generally spoken.
That was not the only shock. The first winter we had temperatures plummet to -4C and the house had no heating. That's when I realised I shouldn't have given away the big pile of wood that the previous owners had helpfully left. We have been through a variety of jobs, but now Sally serves in the village bar/restaurant and I've become a guide with a community tourism project (tothecoreofthings.com) which aims to preserve and promote the cultural, natural and human heritage of the area. We act as hosts to small groups of visitors, no more than six people, introducing them to the village and local people. We wanted to "work to live" rather than "live to work" and broadly speaking it has worked out. We are here to stay.
A long-term affair with Italy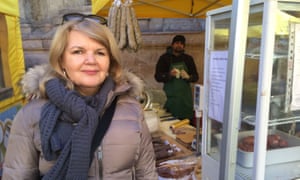 On one trip I inadvertently propositioned a waiter in my tourist's Italian, and so I decided to learn the language. Perhaps deep down I thought that mastering Italian would take me closer to my dream – an Italian farmhouse with rare-breed goats and a new career as a cheesemaker.
I don't have a farm or goats, and I buy my cheese from the market, but these days I do live in Italy. I came here to work seven years ago, transferring the skills I acquired as an environmental health officer in London to a new job with the European food agency in Parma.
I was fortunate in that I already spoke the language and was joining an international organisation geared to helping expats, so I was protected from the more arcane peculiarities of Italian bureaucracy. This meant I got a codice fiscale (tax code – a prerequistie for accomplishing even quite simple tasks), a bank account, an apartment, internet connection and a medical card without having to shout at anyone. But I did spend a lot of time standing in queues and filling out forms, lots of forms…
I love it here. It was a bit of a shock after London – Parma is a compact, bike-friendly, easy-to-live-in kind of place that some might find a little too slow. And after a long day at work, living in one city can seem pretty much like any other. Oh, and the weather can be extreme – perishing winters and hot, humid summers. But we're an hour by train from big cities such as Bologna and Milan (add 30 minutes for a Florence fix), two hours from the beaches or the mountains, and never more than 100 metres from a decent trattoria.
Parma is my home but I miss the usual things: family and friends, curry, British humour and decent tea. But all in all, it has been a fair exchange.
Retreat toThailand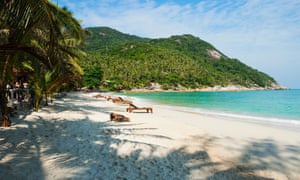 Faith Hill, 37, gave up corporate life to set up wellbeing breaks
I used to be a magazine publisher in London and busted a gut climbing up the career ladder. But I started to fall out of love with my work in 2009, so signed up for a two-day "Find Your Calling: course with life coach Marietta Birkholtz. Instead of identifying a new career path, I came up with the idea for my company, but it took me five years to kill off my fears and go for it.
I researched the field, talked to people about my idea and saved some money. This pot of cash has helped me live a holiday lifestyle while the company is in its infancy; I've given myself permission to expand it gradually instead of going full tilt to grow and earn fast. I wore myself out doing that for years for my old bosses, I don't want to do it any more.
My company, Spark Escapes, organises inspirational events and workshops and provides uplifting, encouraging online content to help people quit boring jobs and live a life of passion and adventure, and I now run it from beaches around Asia.
Last year I trained as a neurolinguistic programming master practitioner, which cost about £4,000. I built my website myself and have taught myself some valuable design skills to save money. I took a part-time job for six months to keep me funded but allow me time to spend on my business. I'm really loving telling people I'm a digital nomad and finding so many others like me.
Now I'm living my dream lifestyle and often have to pinch myself. Asia is way cheaper than London so it's perfect for my budget. I've just mooched around southern Goa for a month and I'm currently staying at my favourite place in Koh Phangan, Thailand. I have the cutest little bungalow in the jungle and meet incredible people passing through every day. Days consist of a bit of work, stimulating conversation, beach time, jungle walks, massages, dancing until dawn … and repeat. I will never look back and I will never complain!
Life's a breeze in Belize
Rachael Wilson, 38, spotted a gap in the market in Central America
I moved to Belize in early 2009 after 10 years in the corporate marketing world in London. I felt stifled and uninspired and definitely in need of a new adventure. So I took off on a six-month solo tour of South America. In Belize I found a welcoming and friendly country and there seemed to be a gap in the market there for a bespoke travel service. I set out to fill it with Absolute Belize. There were some big challenges: it's a country where lots of expatriates come and go, so it's difficult at first to be taken seriously. Then there is a large amount of bureaucracy, like a huge jigsaw puzzle.
After seven years, however, things are going well. I met Cliff, an American who runs sailing charters, fell in love and got married. Sometimes we work many days in a row without any breaks, but when we've got free time you'll find us fishing, kiteboarding or just kicking back on Caye Caulker – our favourite island – with some friends and a few beers."
Fish and chips in Beirut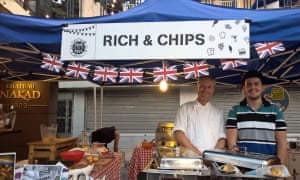 Richard Bampfylde, 36, from Guildford left work as a business development manager to deliver fish and chips to Beirut
I moved to Beirut in summer 2009. My mum actually grew up here – she's Greek. Her family left Smyrna (today's Izmir) in southern Turkey at the start of the 20th century and travelled through Syria to Lebanon. My parents met here, though they brought me up in the UK. They left Lebanon prior to the civil war (1975-90) and only returned again when I moved here.
I grew up hearing about Lebanon over the extended family Sunday lunch table – there were Brits, Greeks and Arabs – so I was always curious. Then, when I visited back in 2007 it just felt right. So I came up with the plan to move here and just kind of did it.
I originally wanted to set up my own pub but didn't have enough money for that so worked at a school (which I'm still contracted to now – I run sustainability projects using my masters in sustainable development, and coach rugby) in order to get to know the city and country and also get some idea of what could work in terms of setting up a business here.
After seeing a gap in the market I had the idea of running a fish and chip business. I started out home-cooking the food and delivering it around town on my Vespa. The fish is beer-battered using a local beer. Two main "ingredients" come from the UK – the malt vinegar and the English newspaper wrap. It's pretty damn popular. I even delivered some to the ambassador at the British embassy. I've branched out a bit too: catering for quiz nights, street food festivals, fishing and cooking trips …
The main idea behind my business has been about having fun and if there's an opportunity to cook at a fun location then I tend to just go for it.
There are many things not to like here: limited electricity, lack of waste infrastructure, water scarcity, traffic. But there are so many great things too: history – the Phoenicians, Greeks, Romans; snowboarding in the winter and swimming in the summer. The world's largest Roman hippodrome is in the southern city of Sur – my favourite spot. There's a great mix of languages – many Lebanese tend to speak Arabic, French and English – and for the Middle East there's a good level of freedom of expression. There are many opportunities for businesses, which I very much doubt I would have had back home.
Brewing up in the Alps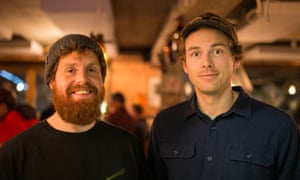 Matthew Stone (37) set up a brewery and restaurant in Morzine in the French Alps with Chrigl Luthy (34)
I'd been working as a chef in south London for a few years and felt I needed to change my work/life balance and try for a job during the winter season so I could indulge my love of skiiing. Someone I worked with hooked me up with a job chefing in Chamonix for the winter of 2011/12. I spent the season there and met my wife Susan who had friends in Morzine so that's what led us there.
I realised there was a gap in the market there for a bar that served different beer and food in an informal atmosphere. Then I met Chrigl who had left his job to learn to brew beer, at the Kernel in Bermondsey. It turned out they'd been thinking of moving to the alps to open his own brewery. We quickly saw how our ideas could be combined.
The Alps especially are suited to the brewpub format (as most of France's pubs and bars are tied, like many in the UK, to certain beers they are contracted to), though there are only a handful – the first brewery in the Haute Savoie and Savoie, called the Fer Rouge, is in the next valley, just up from Abondance, the Irish Pub in Les Gets, and the well-known MBC in Chamonix. They all helped us figure things out and have become friends.
We found a property, signed up an accountant who guided us through the process of creating a business plan and introducing us to banks in the area for a loan, and got the Bec Jaune Brewery open within three months of buying it. Since then it's gone really well, and has certainly been the change I was looking for. I have more free time than I did working in London and can enjoy the sports I like right on my doorstep. Being in a ski/mountain bike resort has its downsides too, with busy seasons and very quiet inter-seasons, a lack of culture (other than ski and mountain bike culture) and a very transient population. It also has very limited options for careers outside of hospitality and this was partly responsible for Susan moving back to London.
We currently travel between London and Morzine when we can, which is not easy. France is not a paradise: the tax system is confusing and frustrating, I often struggle with the language and customer service seems somewhat lacking. However if you are willing to put up with those things, it can be a wonderful place to be.
[Source:- theguardian]