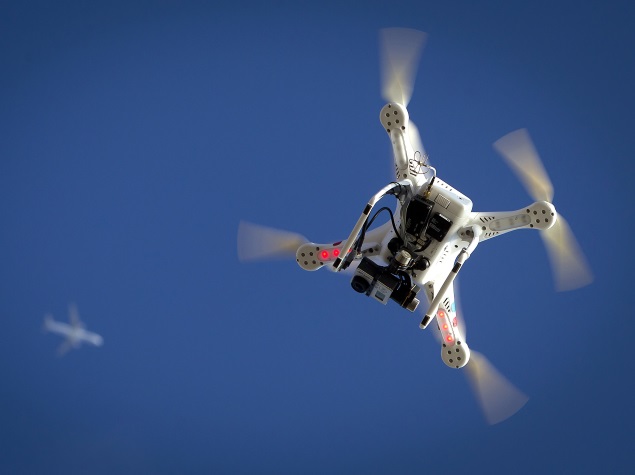 The Federal Aviation Administration said it would work with two private U.S. companies to test commercial drones that can fly beyond an operator's line of sight, a precursor to sophisticated drone operations such as package delivery.
The separate partnerships, with drone makers PrecisionHawk and BNSF Railway Co, owned by Warren Buffett's Berkshire Hathaway Inc, are a potential milestone in developing unmanned aircraft for a variety of business applications.
The U.S. aviation regulator also announced on Wednesday a partnership with cable television news network CNN to test news gathering in urban areas that have been largely off limits for commercial drones.
The FAA has been under intense pressure from industry and Congress to allow beyond-line-of-sight operations. It has heard from companies ranging from AmazonInc and Google Inc, which are developing drones that can deliver packages, to energy and agriculture firms that want to use the devices for inspecting crops or pipelines.
The FAA is in talks with drone manufacturers and operators about testing beyond-line-of-sight drone systems, and an announcement is expected as soon as this week.
"We anticipate receiving valuable data from each of these trials that could result in FAA-approved operations in the next few years," said FAA Administrator Michael Huerta, who announced the partnerships at a drone industry convention in Atlanta.
"Integrating unmanned aircraft into our airspace is a big job, and it's one the FAA is determined to get right," he said in comments released by the agency in Washington.
The agency proposed rules in February that would lift a near-ban on companies using drones as part of their business operations. Separately, the FAA has also been granting permission for commercial drone use on a case-by-case basis since last September.
But in both cases, regulators have insisted that drones fly within an operator's line of sight for safety reasons – restrictions that would not allow for advanced operations such as package delivery services championed by Amazon.
Beyond-line-of-sight operations use on-board cameras to enable an operator to change course to avoid aircraft and other obstacles.
The partnerships with industry could raise the odds that beyond-line-of-sight technology will ultimately be accepted by new commercial drone regulations that the FAA is working to finalise within the next two years.
Under its FAA partnership, Raleigh, North Carolina-based PrecisionHawk said it will test its traffic-management low-altitude tracking and avoidance system for unmanned aerial systems (UAS) on farmlands. The tests will be coordinated with six FAA drone test sites in the United States.
PrecisionHawk said it would provide the FAA with data to help the agency develop regulations around UAS.
["source-gadgets.ndtv.com"]