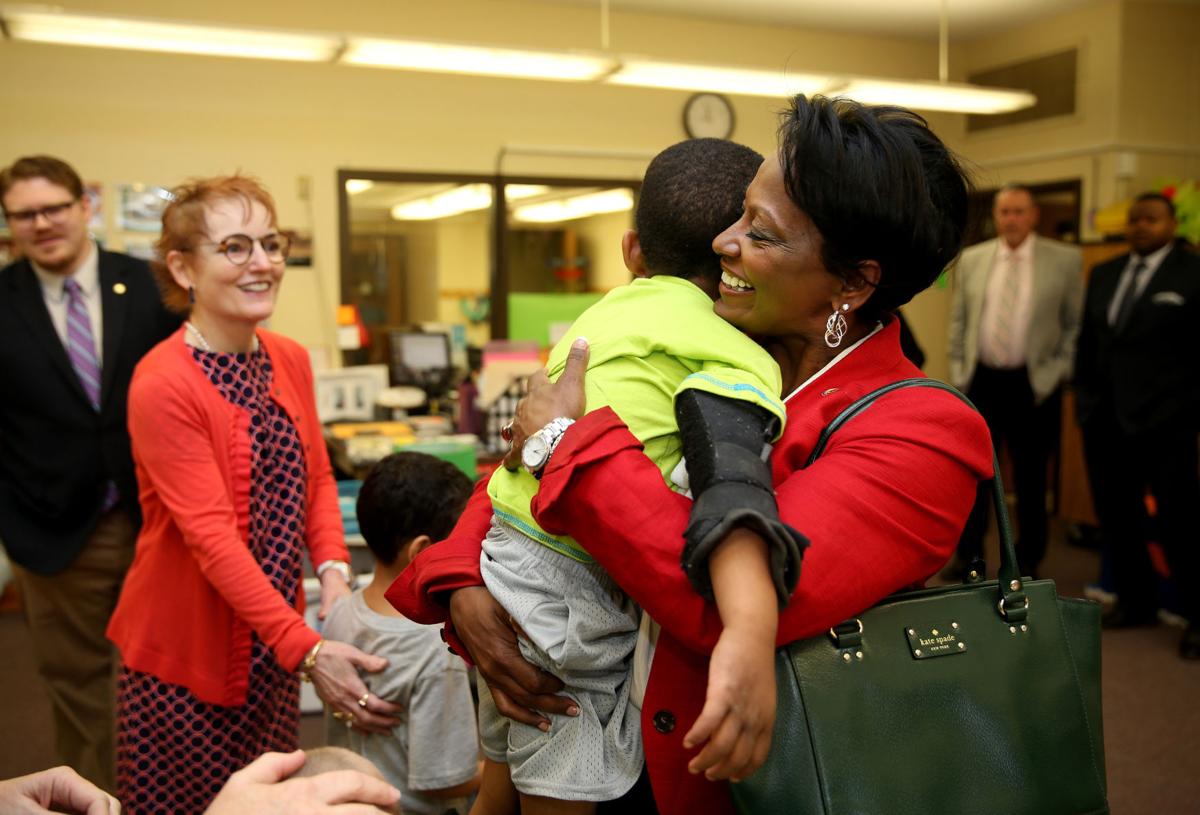 Hadley Christie was in the middle of teaching a math lesson when Virginia's secretary of education walked into her classroom at Hugh Mercer Elementary School on Thursday morning.
Without skipping a beat, Christie asked her students to tell Dietra Trent what they were learning about.
"Probabilities!" the second-graders chorused.
As Trent watched, Christie showed the image of a bowl of mostly yellow M&Ms and a few green ones on a smart board, and asked what the chances were of pulling out a green M&M. Then she asked the girls to form one group to come up with the answer and the boys to form another to do the same thing.
Both groups agreed that it was less likely to pull out a green M&M because there were more yellow ones. Christie got one student to go to the bulletin board and pick out the word they should use from a range of options that included "certain," "likely," "equally likely" and "unlikely."
He put a finger on the word "unlikely," and then got to pick an M&M out of a bowl without looking. It was yellow.
"She's a really good teacher," Trent whispered to Principal Marjorie Tankersley.
The secretary was visiting Hugh Mercer during Teacher Appreciation Week because she wanted to see how a school where nearly two-thirds of the students qualify for free or reduced lunch manages to do so well. Hugh Mercer students "across the board" are at or above grade level, according to the Measure of Academic Progress tests given at the beginning, middle and end of each school year, Tankersley said.
"That's my goal, because then I know they'll be successful in those SOLs when they begin taking the tests in the third grade," she said.
Trent started her tour of the Fredericksburg school with a visit to Marylise Coby's special education class, where Coby and an aide were teaching four students how to say "good morning!" in sign language and then to use it to say "good morning!" to each other.
The next stop was Christie Montgomery's kindergarten class, where her 19 students were cutting out the word "character" and gluing it into a journal to give them a better grasp of the picture book they were reading. She also had them do a quick drawing in their journals of Pigeon, the main character in "The Pigeon Needs a Bath!"
Christie's second-grade class was the last Trent visited before sitting down at a conference table with five other teachers.
Her goal, she told them, was to ask what they'd like Gov. Terry McAuliffe to know about their school and to gather suggestions on how to make their job easier.
The teachers' replies ranged from having paraprofessionals in the classrooms for longer periods of time so teachers don't feel stretched too thin to boosting teacher pay (Virginia just dropped from 30th to 32nd place, according to the National Education Association's annual "Rankings & Estimates of the States" survey) to switching to a year-round school system so students don't lose ground over summer vacation.
Trent said that school systems can apply to the state if they want an extended year or year-round schools. The General Assembly created the Extended School Year Grant Program last year for schools that want to make the switch after a legislative commission found that students in struggling schools do better with longer school years.
The issue of teacher retention also came up. Trent said McAuliffee will send a letter to the State Board of Higher Education next week about getting more teachers in the pipeline.
Tremellia Lavalliere, who teaches kindergarten at Hugh Mercer, said she took advantage of Old Dominion University's Career Switcher program for people who want to become teachers. It was created at the behest of the General Assembly and the State Board of Education to help alleviate Virginia's teacher shortage.
"My support system was phenomenal. Everyone was very helpful," said Lavalliere, who had previously been a social worker and the director at a child care center. "It was a smooth transition. I've never been happier."
She said that she lived with her parents in Virginia Beach while she completed the program, but many other students had to find a place to rent.
Trent said that Virginia Commonwealth University's Richmond Teacher Residency offers students a stipend for the first year of the master's program, but they must commit to spending the next three years teaching in Richmond Public Schools.
"We're putting more money into it because we like that model," she said. "These students are being trained in some of the most challenging school systems."
As Trent was leaving, she told Tankersley that she noticed how excited and engaged the students were in every classroom she visited. She said she was also impressed that the classes included students who were a little more challenged than some of the others.
Asked what she thought of President Trump's proposed first education budget, which makes deep cuts to public education, Trent said that it will especially impact Title One schools like Hugh Mercer, which have a high proportion of students from low-income families.
"I'm a little concerned that this administration puts a lot of their trust in charter schools and vouchers," she said. "If they visited schools like this, their view would be different."
["source-ndtv"]