The Vivo X21 has an in-display fingerprint scanner
It is powered by the Snapdragon 660 SoC and has 6GB of RAM
It runs Funtouch OS 4 on top of Android 8.1 Oreo
Smartphones are evolving at a rapid pace and we now have better processors, cameras, and construction materials being used at every price level. Recently, we have also seen a lot of innovation when it comes to device security. Apple introduced FaceID last year with the iPhone X (Review) which replaced a fingerprint sensor with a TrueDepth camera. FaceID involves an infrared camera and a flood illuminator to accurately scan multiple points on the user's face in order to authenticate him or her. Another change that helps with smartphone design is the use of in-display fingerprint sensors. Vivo has already showcased this on its X20 Plus UD, as well as a concept phone called the Vivo Apex.
The company has now launched the Vivo X21 in India, making it the first phone with an in-display fingerprint scanner in this country. Priced at Rs 35,990, does the Vivo X21 make a good case for this evolution in fingerprint recognition technology? We put it to the test.
Vivo X21 design
Vivo was the first manufacturer to launch an Android smartphone with a screen notch in India, and unsurprisingly, the X21 also has a notch. In fact, it does look a lot like the last Vivo phone we reviewed, the Vivo V9. The X21 has a big 6.28-inch display at the front with thin borders all around except at the bottom where it is comparatively thicker. The notch houses a metallic earpiece, the selfie camera, and an IR sensor, among other things.
At the back, the Vivo X21 has a dual camera setup along with a single-LED flash. It does not have a physical fingerprint sensor in the way that we are now used to. Vivo has managed to integrate it into the display on the front, and we'll have more on that later.
Pick the phone up and you will notice that its frame is made out of metal when it gets cold in air-conditioned rooms. The back is made of glass and does not pick up fingerprints. However, it can be a little slippery. Vivo ships a case in the box that might come in handy to keep the X21 safe.
All the buttons are placed on the right and you might need to shuffle your hand a bit to reach all of them. The left side of the phone is bare, while the top has the 3.5mm audio socket and a secondary microphone. At the bottom, there's a Micro-USB port, a SIM tray, and a speaker grille. It is shocking to see a Micro-USB port on the phone at this point, considering its price tag. All other models in this price range currently use the Type-C port standard. The in-display fingerprint scanner is being positioned as futuristic, but the Micro-USB port drags the Vivo X21 back into the past.
Vivo ships this phone with an 18W fast charger as well as XE710 headphones in the box. The X21 comes with a pre-applied screen protector, and Vivo warns against using aftermarket ones, because it could affect the in-display fingerprint scanner's performance.
Vivo X21 specifications and software
The Vivo X21 is powered by the Qualcomm Snapdragon 660 mobile platform and is clocked at 2.2GHz. It is an octa-core processor with eight Kryo 260 CPU cores and an Adreno 512 GPU. The X21 has 6GB of RAM and 128GB of internal storage. It is a dual-SIM smartphone with a hybrid slot letting you use a microSD card to expand storage by up to 256GB instead of a second SIM.
One of the best things about the Vivo X21 is its AMOLED display. It has good viewing angles and punchy colours. The 6.28-inch display has a resolution of 1080×2280 pixels and a 19:9 aspect ratio. If you prefer neutral colour output, you might be disappointed that there is no way to tweak the display calibration.
The dual camera setup at the back consists of a 12-megapixel primary sensor and a 5-megapixel depth sensor. The 12-megapixel Samsung sensor that Vivo has opted for uses dual-pixel technology and takes advantage of PDAF. The company has also opted for the same 12-megapixel sensor for the front camera, which undertakes face recognition duties as well as taking selfies.
The highlight of the X21 is its in-display fingerprint sensor. This is a spot on the screen, positioned a little above where the on-screen home button. You will see a fingerprint icon in that spot, showing you where you need to place your finger. The icon glows brighter as you press down, allowing a CMOS sensor to get a good image of it. The placement is convenient and you'll get used to it in no time. The setup process is similar to what we've seen on smartphones before, but it takes slightly longer.
Unlocking the phone using the in-display fingerprint scanner is easy, but also takes longer than we're used to. Place your enrolled finger on the fingerprint icon and wait for it to light up as the scan is being processed. If your fingerprint isn't recognised, the phone will suggest that you press down harder. There are animations which look cool and you have can choose any of three different options, but you cannot turn them off. They might distract you from realising that it's taking longer than usual to recognise your fingerprint. The delay is unfortunate, but it isn't bad for what's essentially a first-generation product.
You also get the option to enable face recognition, dubbed Face Access by Vivo. You can set up both the fingerprint scanner and face recognition to unlock the phone. We had multiple instances when the device recognised our face and unlocked itself before we had even placed our finger on the screen for a scan.
The X21 runs Vivo's custom Funtouch OS. We found that it was running Funtouch OS 4.0 on top of Android Oreo, just like the Vivo V9. The display area around the notch is used for status icons, and surprisingly we could not find a setting to hide the notch off like we have seen on most other such phones recently.
Funtouch OS looks a lot like iOS and also has a Control Centre for all the quick toggles that are usually found in the notifications shade. You need to swipe up from the bottom of the display to access the Control Centre. Vivo has ditched a few Android Oreo features such as notification dots, and opted for custom app badges instead. Unfortunately, you miss out on the quick actions feature that stock Android Oreo offers.
You can change the order of the on-screen navigation buttons or ditch them altogether and switch to gesture-based navigation. We did this while reviewing the X21 and found that the gestures were quite smooth and easy to get used to. Gesture shortcuts let you launch apps by tracing alphabets on the screen when it is off. There are a lot more gestures that you can enable if you like.
The Vivo X21 isn't free form bloatware and you have apps like V-Appstore (an app store managed by Vivo), WPS Office, UC Browser, NewsPoint, PhonePe, Facebook, and WhatsApp among others. Other than Vivo's App Store, you can go ahead and uninstall all of them.
The Vivo X21 is also on the list of devices that are eligible for Google's Android P Beta build. While it is not certain that this phone will be updated to Android P when it is released, it does suggest a better chance of that happening.
Vivo X21 performance, cameras, and battery life
In our time with the Vivo X21, we did not find any lag or stutter. The Snapdragon 660 SoC is capable of delivering a smooth experience. With 6GB of RAM, this smartphone is capable of multitasking without any issues. We put the X21 through benchmark tests and found that it scored 142,969 in AnTuT 7, as well as 1577 and 5791 in Geekbench4's single-core and multi-core tests respectively. It also clocked 35fps in GFXBench T-Rex, and 13fps in GFXBench Manhattan 3.1. It scored 26,271 in 3DMark Ice Storm Unlimited, but failed to run the Slingshot and Slingshot Extreme benchmarks.
Like most other phones with 19:9 displays, the Vivo X21 runs compatible apps fullscreen. Those that are not fully compatible either run in the 18:9 aspect ratio or the more traditional 16:9.
Vivo hasn't made significant changes to the camera app, and you have the usual camera modes to choose from while shooting, including face beauty, panorama, and pro modes. AR stickers are available, and Vivo says that the camera is AI-powered so that it can detect gender, age, skin colour, and skin tone. When shooting in Auto mode you get quick toggles for portrait mode, live photo, and HDR. The professional mode lets you set the exposure, ISO, shutter speed, white balance, and autofocus.
Tap to see full-sized Vivo X21 camera samples
Photos taken with the X21 turned out quite well and we were happy with the output. The Vivo X21 is super-quick to focus and set the right exposure when shooting in Auto mode. Landscape shots turned out quite well and the phone was also quick to enable HDR mode automatically when required. The phone does a good job of separating the subject from the background in macro shots. We tried shooting in Bokeh mode, which lets you simulate a lower aperture. We found that the edge detection was decent but we did see edges getting blurred occasionally.
Low light shots were average, and the X21 missed some detail in objects at a distance. If you are taking photos with a light source nearby, you will be able to get better quality. Selfies turned out a little overexposed but we liked them. You can set different levels of beautification before taking a selfie, or set the control to auto and let the phone decide. Video recording maxes out at 4K for the primary camera and the selfie camera. There did not seem to be any time restriction on 4K video recording, and we went beyond 10 minutes in our tests. We found that colours appeared oversaturated in 4K videos, and there is no form of stabilisation beyond 1080p.
The Vivo X21 has a 3200mAh battery, and offers good runtime, plus low power drain when at idle. In our HD video loop test, the smartphone managed to clock 14 hours and 11 minutes. With our usage, which included using WhatsApp, watching videos on YouTube, and playing games such as Clash Royale and Breakneck, the phone lasted for one full day and still had some juice left. The included fast charger is capable of charging the phone up to 50 percent in half an hour, but it takes close to an hour and a half to charge the device completely.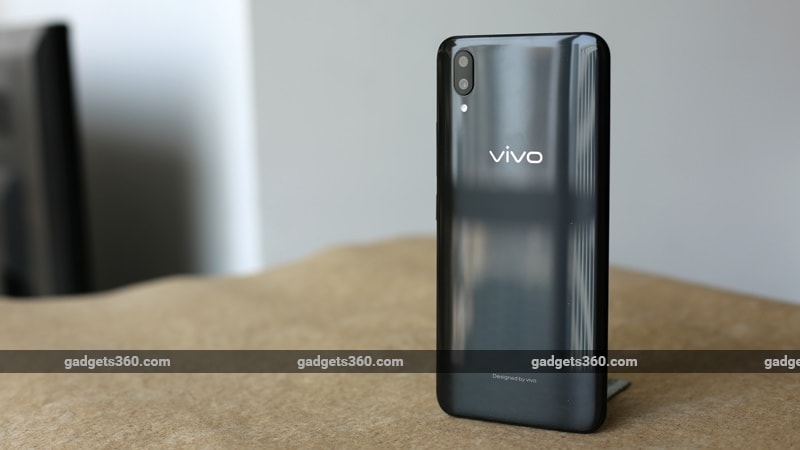 Vivo X21 in pictures
Verdict
The Vivo X21 is the first smartphone with an in-display fingerprint scanner to launch in India. It has decent hardware coupled with Vivo's software, which you might or might not like. The in-display fingerprint scanner works well but isn't in the same league as the physical ones we now have on most smartphones. It is slightly slower to unlock the phone, but not painfully so. This is acceptable considering that the X21 is a first-generation product. On the other hand, opting for a Micro-USB port instead of USB Type-C on a phone priced at Rs 35,990 is a strange move.
Vivo has priced this smartphone in the same league as the OnePlus 6 (Review), even though it isn't as powerful by a long shot. The Nokia 7 Plus (Review) costs a cool Rs 10,000 less and delivers roughly the same level of performance. You can opt for the Vivo X21 if you want to show off the new in-display fingerprint scanning technology. Most people would pick the OnePlus 6 at this price, but you could go with the Vivo X21 if you want to try out (or flaunt) the new in-display fingerprint scanning technology.
---
Is the Vivo X21 the future of smartphones or an overpriced gimmick? We discussed this on Orbital, our weekly technology podcast, which you can subscribe to via Apple Podcasts or RSS, download the episode, or just hit the play button below.
For the latest tech news and reviews, follow Gadgets 360 on Twitter, Facebook, and subscribe to our YouTube channel.
Vivo X21
Buy
Design
Display
Software
Performance
Battery Life
Camera
Value for Money
Good
Up-to-date software
Good battery life
Premium build quality
Bad
Slow fingerprint scanner
Micro-USB port
Read detailed Vivo X21 review
BUY AT
Refurbished – Vivo X21 (Black, 128GB, 6GB RAM)
["Source-gadgets.ndtv"]