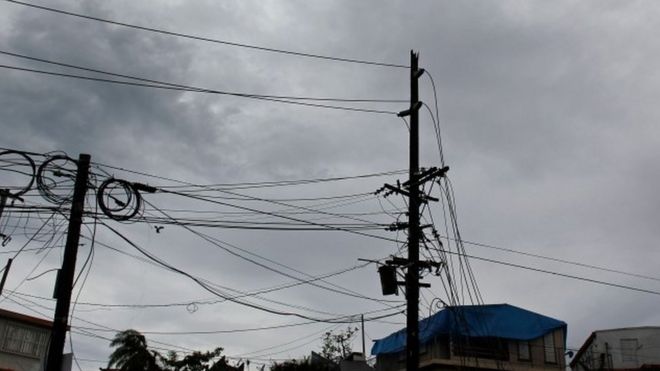 An energy firm is halting work restoring power in hurricane-ravaged Puerto Rico in a dispute over pay.
Whitefish Energy says payments have been delayed from Puerto Rico's bankrupt power authority.
The power authority, known was Prepa, says it is reviewing invoices and has stopped payments after receiving a complaint from a subcontractor.
Whitefish Energy has been at the centre of a contracting controversy that reached the Trump administration.
Puerto Rico's hard road to recovery after Hurricane Maria
Whitefish energy grid deal to be scrapped
The company said in a statement it had been "promptly" turning over payments to subcontractors but "outstanding invoices for work performed in October made it impossible to continue in this manner".
Speaking on the condition of anonymity a Whitefish official told the BBC that $83m (£67m) was owed by Prepa.
In a statement, Prepa spokesman Carlos Monroig, said Whitefish had "paralysed" restoration efforts, and that the power authority was "in the process of reviewing and auditing invoices submitted by Whitefish".
Contracting row
The power restoration deal struck with Whitefish quickly after the storms came under scrutiny last month after revelations in the media.
Among other peculiarities, it was revealed that the two-year-old company had little experience with work on this scale and was headquartered in the tiny Montana hometown of US Interior Secretary Ryan Zinke.
Mr Zinke denied any involvement in the deal and denied any wrongdoing, while the White House distanced itself from it.
Prepa and the Puerto Rican government are saddled with massive debts. The power authority declared bankruptcy in July.
The Caribbean island, home to more than three million US citizens, was struck by two massive hurricanes in September. Hurricane Maria, the second storm, all but wiped out the island's power grid.
Source:-BBC