Rare syndrome that causes immune system to damage nerve cells seen increasingly in patients with Zika virus, health minister announces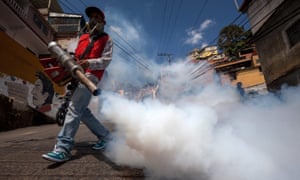 Colombia has seen a sharp spike in the number of patients diagnosed with a rare neurological disorder that can cause paralysis among people with the Zika virus, the health minister has said.
"In the past week we have seen a substantial increase in the number of people reported with Guillain-Barré," said health minister Alejandro Gaviria, referring to a rare syndrome that causes a person's own immune system to damage nerve cells, leading to muscle weakness and sometimes, paralysis.
A week ago only about 15 people infected with Zika were reported with the syndrome. "I think that figure now is in the hundreds," he said on Thursday.
Gaviria said one neurologist in the northern coastal city of Cartagena had said he would normally see three cases of Guillain-Barre (GBS) in a year. "Now he's seeing three in one day," Gaviria said.
Until now most health alerts in the more than 20 countries where the Zika virus has been detected have concentrated on pregnant women, since the virus can cause microcephaly and brain damage to the foetus. Authorities in several Latin American countries have called on women to delay pregnancy until the outbreak eases.
GBS, however, can affect the wider population. "It's our most important concern today," the minister said.
On Thursday the World Health Organisation declared that the Zika virus, which by itself causes mild flu-like symptoms, is "spreading explosively". It has been detected in 22 countries.
While there is no hard proof that the spike in microcephaly and Guillain-Barré are directly related to Zika, "the level of alarm is extremely high".
"The possible links, only recently suspected, have rapidly changed the risk profile of Zika from a mild threat to one of alarming proportions," said WHO chief Dr Margaret Chan.
Brazil had already reported an increase in GBS cases that have occurred at the same time as the outbreak of Zika virus but the association between the two has been considered anecdotal. The US Centers for Disease Control plans to conduct a study to determine if any relationship exists between the Zika virus infection and GBS.
Chan said Zika had gone "from a mild threat to one of alarming proportions".
Colombia is second to Brazil in the number of confirmed cases of Zika virus, with roughly 20,000 to date according to the minister.
Health ministers from around Latin America are planning a regional meeting next week to discuss strategies to fight the spread of the virus.
[Source:- The Gurdian]