UN body acts over mosquito-borne virus linked to serious birth defects which is 'spreading explosively' across the Americas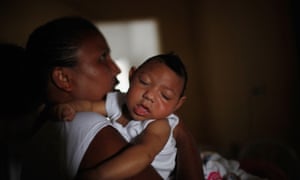 The World Health Organisation has declared a "public health emergency of international concern" due to the apparent link of the Zika virus to a surge in serious birth defects in South America.
WHO chief Margaret Chan said the link between the Zika virus and microcephaly was "strongly suspected but not yet scientifically proven."
"After a review of the evidence, the committee advised that the clusters of microcephaly and other neurological complications constitute an extraordinary event and public health threat to other parts of the world," Chan said.
She said an international coordinated response was necessary, although there was no reason to introduce restrictions on travel or trade. Mosquito control was the top concern, she said.
The designation was recommended by a committee of independent experts, and should help fast-track international action and research priorities.
Chan advised pregnant women to take measures to protect themselves.
"If you can delay travel and it does not affect your other family commitments, it is something they can consider," she said. "If they need to travel, they can get advice from their physician and take personal protective measures, like wearing long sleeves and shirts and pants and use mosquito repellent."
Meanwhile, Brazil's president signed a measure on Monday allowing health officials access to any building to eradicate breeding grounds for a mosquito spreading the Zika virus.
The measure signed by president Dilma Rousseff allows health officials access to all homes, public and private buildings even if the property's owner cannot be located. Officials can also request backup from police to raid any building suspected of being a mosquito breeding ground.
The UN health agency warned last week that the mosquito-borne virus was"spreading explosively" in the Americas, with up to 4 million cases expected in the region this year.
The WHO has been under pressure to act quickly in the fight against Zika, after admitting it was slow to respond to the Ebola outbreak that ravaged parts of west Africa.
Although the mosquito-borne virus's symptoms are relatively mild, it is believed to be linked to a surge in cases of microcephaly, a condition in which a baby is born with an abnormally small head and brain.
Zika is also suspected of links to a neurological disorder called Guillain-Barré syndrome.
Brazil, the hardest hit country, sounded the alarm in October, when a rash of microcephaly cases emerged in the north-east.
Since then, there have been 270 confirmed cases of microcephaly and 3,448 suspected cases, up from 147 in 2014.
Amid concern over the surge in microcephaly cases, Colombia, Ecuador, El Salvador, Jamaica and Puerto Rico have warned women to delay conceiving until the Zika outbreak is brought under control.
Jitters over Zika have spread far beyond the affected areas to Europe and North America, where dozens of cases have been identified among people returning from vacation or business abroad.
There is currently no treatment for the Zika virus, and the WHO has said it would likely take more than a year to develop a vaccine.
The virus is transmitted by the Aedes aegypti mosquito, which also spreads dengue fever and the chikungunya virus. It produces flu-like symptoms including a low-grade fever, headaches, joint pain and rashes.
The WHO has refrained from issuing travel warnings related to Zika, stressing that the most effective form of prevention is getting rid of stagnant water where mosquitos easily breed, and personal protection against mosquito bites such as using repellant and sleeping under mosquito nets.
[Source:- The Gurdian]