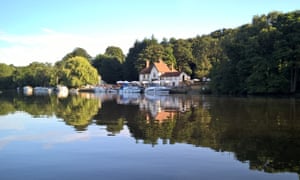 We've had many elegant moments, but this is not one. Charlie lowers herself into the canoe first – an unsteady and unfamiliar combination of retro, crimson lifejacket, oversized designer handbag and wooden paddle. I'm next. Map in one hand, anorak in the other, I ease myself down to the bench as Nick gently pushes us away from the bank.
"Is there a technique to this?" I call out to him. "Ah, you'll find your own way," he replies, as we drift towards the middle of the river Wensum. We're yet to sink our first pint.
Norwich may not be your classic daytrip destination, but its newest activity, thought up by local lad Nick Hannington, is just my bag. He's combined two of his favourite hobbies to create Pub & Paddle, a canoe-based pub crawl along Norfolk's waterways – an "absolute hotbed" for budding paddlers, he tells me. Aimed at families, grown-up stags and G&T-swigging girls like Charlie and me, this is a day-long escape from phones, traffic and stress – a chance to slow the pace. Really slow the pace …
Nick doesn't normally join his customers on their expeditions, but he's hopped in another canoe to provide historical notes (maps detailing sites on the route are currently being drawn up for future paddlers). His encouragement doesn't hurt, either: "You'll need to work much harder to reach the pubs," he warns – which is motivational talk at its finest.
As we zigzag across the river – we're still mastering the strokes – we have the chance to hear about the city sites. Norwich may evoke memories of Colman's mustard, Alan Partridge and Delia Smith's half-time rant, but this place has more to brag about.
Paddling along beside us, Nick recounts its rich history – not one but two cathedrals (with spire views from the river), dozens of medieval churches, a pub for every day of the year, a stonking great castle, and an easy-access waterway that helped it become England's second-largest city from the 11th century, and one of the most populated until the Industrial Revolution. And don't get him started on the city's golden age of cloth-weaving …
Nick has a map with three suggested itineraries along the same stretch of river – 5 miles, 7½ miles, or 10 miles, stopping at between three and six pubs. We're testing route two, aiming for five stops (though it's all flexible, depending on how fast you paddle and how long you spend ashore).
The route meanders its way through the ages. We pass remnants of the city wall – built in 1294 to prevent overzealous urban expansion – crumbling at the side of the water. Elderly couples rest on benches: one eye on their paper, another on our erratic paddling form. Herons perch on the banks, posing for pictures.
A couple of miles in, we get a waft of Sunday lunch from the Colman's factory, which is spewing out a familiar aroma from its hot vats of mint sauce. Nearby, abandoned warehouses sit shoulder to shoulder with arty refurbishments.
Paddling on past near clapped-out cruisers with names Iceni Warrior, Beast of Burden and Buzz we reach our first pub, in the sleepy village of Thorpe St Andrew. Mooring our canoes is "knot a problem" according to Nick's route map (the back page details how to master a clove hitch), and we clamber out to the waterside beer gardens of The Rivergarden, and Rushcutters Arms to refuel with half pints and crisps. Yes, half pints. Although boozing-canoeing regulations are pretty lax, this isn't about getting legless – Nick urges his punters to drink responsibly.
The next stretch, he preps us, is the longest. Layers are removed. Locals stare. Soon our red faces are rewarded with blissful peace and green meadows as the Wensum merges into the river Yare. Huge houses line the bank, while daytripping cruisers, with Rosie and Jim dolls peering out of their windows, pootle alongside. Four sweat-slicked rowers whip past us, putting our pace to shame.
But at least our canoe has some swag. Handcrafted by Nick in his nearby barn, the two- and three-seater rides are a combo of okoume wood and bright, primary colour paint jobs.
The hypnotic arrangement of sycamores and meadows relaxes us as we paddle towards the Norfolk Broads. "You don't go fast or far in a canoe, but you do enjoy the ride," Nick says, before we spot another heron, soaking up some rays on an old mooring post.
Our next drink's in sight, and the approach is the best yet. The river's widened, and we cruise up to the pub's moorings with an entourage of swans, geese and ducklings. A Woodforde's Reedlighter – a malty, Norfolk-brewed American-style pale ale – revives us in the garden of the plush Water's Edge pub, a favourite pitstop for swanky boats.
An eager paddle follows as another beer beckons. We continue on the meandering river, past idyllic countryside to the unflashy Ferry House, an old-school tavern dating back to the 1700s, where locals prop up the bar and tuck into pub grub.
It's here we call a £10 taxi: forget the paddle back into central Norwich, Nick will collect your canoes from your final stop so that you can enjoy the one-way views. Further along the Broads are waterways so narrow only canoes can squeeze through, while the Coldham Hall pub is spot on for post-paddling scoff. After six miles on the water, we won't make it there today. "That's the only problem with canoeing," Nick says, nursing his ale, "you get so detached from everyday life, you can't face rushing anything."
[Source: Gurdian]