Android Lollipop, the latest publicly available version of Google's Android mobile and tablet operating system, is now running on around 10 percent of Android devices that check into Google Play.
Google has updated its Google Play distribution data for the seven-day period ending May 4, revealing that the number of Android Lollipop-based devices logging into the store are steadily rising, while devices running Android KitKat and Android Jelly Bean versions have gone below 40 percent mark.
Sharing the distribution data of different versions of Android, Google reported that Android Lollipop has a total share of around 9.7 percent of active Android devices (withAndroid 5.0 Lollipop running on 9 percent of device and Android 5.1 at 0.7 percent) that check into Google Play compared to the 5.4 percent reported at the beginning of April- an increase of 4.3 percent in roughly a month.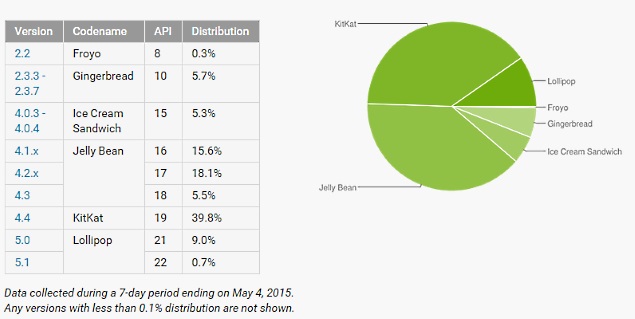 According to the latest data released on the Android Developers' Web page, Android 4.4.x KitKat version is going down steadily in charts and now powers 39.8 percent devices compared to 41.4 percent last month – a decrease of 1.6 percent.
The latest Android distribution data also shows that Android Jelly Bean has a combined share of 39.2 percent – falling 1.5 percent from April's 40.7 percent. Android 4.1.x is seen on 15.6 percent devices (down from 16.5 percent), Android 4.2.x on 18.1 percent (down from 18.6 percent), and Android 4.3 on 5.5 percent devices (down from 5.6 percent).
Android 4.0.x or Ice Cream Sandwich, in Google's latest numbers, registered a share of 5.3 percent, down 0.4 percent from April. Android Gingerbread (v 2.3.3-2.3.7) and Android 2.2 Froyo's device distribution shares are 5.7 percent (down 0.7 percent) and 0.3 percent (down 0.1 percent) respectively in the report.
The OpenGL version, on the other hand, saw OpenGL 2.0 dominating at 64.1 percent, and OpenGL version 3.0 steadily rising to 34.5 percent.
Which version of Android are you running? What do you think of Android 5.1 Lollipop? Let us know in the comments.
["source-gadgets.ndtv.com"]