Where nuns once lived a simple life, music lovers can now eat, catch an intimate gig and stay the night. But has the new multi-tasking hotel fully found its groove?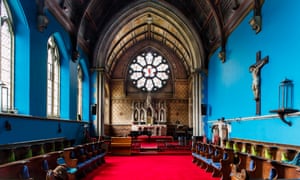 Dearly beloved, we are gathered here today to pay worshipful respect … to food, music and a good, long relax. It may not be an order of service that the enclosed order of nuns who once called the Convent home would have recognised, but secular pleasure at former religious institutions is a very 21st-century thing.
The Convent, close to Stroud and surrounded by Cotswolds loveliness, is now a boutique hotel with six suites and what it terms a Writer's Block of eight doubles. It is also a restaurant, private members' club, music venue and recording studio. However, at first glance it is hard to get a handle on the diversity of what owners Matt and Charlotte Roberts embarked on three years ago when they took over the near-derelict site.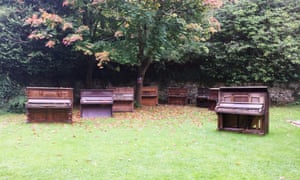 After taking a blink-and-you'd-miss-it turning, we pull into the small, ramshackle car park and find ourselves looking at the back door of the kitchen. Unsure whether this is the entrance, I buy pondering time by snapping photos of the 12 upright pianos in a garden of the 18th-century building. A door creaks open and Matt appears, leading us down a dark, atmospheric hallway into the light of the reception area. It's grand but not, fortunately, too austere.
The building's heritage remains prominent in its interior design: stained-glass windows, cloister-like corridors, sturdy benches and a pulpit in the stylish members-only bar, known as Dirty Habit. But the aesthetic also references the Convent's focus on music and literature. In the main bar-restaurant – and also in the chapel-venue bar – I linger over classic typewriters, a pianola with music scrolls, old gramophones and record sleeves as artwork. The mix brings an engaging physicality to the decor.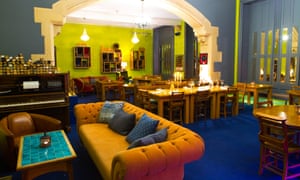 My girlfriend and I settle in for lunch, opting for light plates from an extensive menu that also includes mains, pizza, sharing boards, salads and seasonal specials. It feels like it's trying too hard and would benefit from a reduction, and I don't mean jus.
The light meals are beautifully presented and perfect for lunchtime snacking. The crispy cheesy polenta with tomato and chilli fondue (£7) has a lovely yielding texture, with the sauce adding a sweet counterpoint; lamb goujons with smoked anchovy aioli (£8) are tender and deep with flavour. The only disappointment is a spiced aubergine relish with crumbed buffalo mozzarella: it needs more tang. Background music is from the in-house radio station, the blues, folk and polite-indie selection reflecting the sort of artists who perform here. Admission to gigs (usually four nights a week) is free for hotel guests.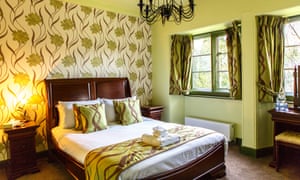 The rooms are spacious and sumptuous – though ours, room one, catches soundcheck noise from the chapel. Each has its own character and colour scheme: room one majors on salmon pink and yellow and its en suite has a clawfoot bath and underfloor heating. All rooms have Molton Brown bathroom "condiments" and luxurious Soak & Sleep towels. Rest and relaxation aren't hard to find here.
Dinner isn't as successful as lunch, as the food fails to match its own ambition or the evocative surroundings. The Moroccan chicken tagine with lemon couscous (£14) is bland and the presentation uninspired, while the pulled-beef short-rib cottage pie with roasted roots (£15) lacks punch and richness. (Since my visit kitchen changes have been made.) However, this slight down is mitigated by the major up of a jazz/pop concert in the chapel. I marvel at the beautifully restored vaulted ceiling and revel in the chance to see an artist perform in what is still a small and still sacred-feeling space.
I check out buoyed by a great, grease-light breakfast and happy that it's served until noon, too. But I also find myself pondering the conflation of hotel, restaurant, music venue and members' club (annual membership for a couple is £300 plus £40 joining fee). Might it not be too much of a stretch to succeed on all fronts? It feels as if the Convent is still in the process of finding out, but if it gets the balance right, the place could no doubt become habit forming.
• Accommodation was provided by The Convent, Convent Lane, (01453 835138,theconvent.net, doubles from £120 B&B)
Ask a local
Alex Hobbis, editor, Good on Paper arts magazine
• Festival
Stroud has a vibrant music scene and is home to up-and-coming artists such as Hot Feet, Ardyn, Hattie Briggs and Emily Barker. The annual Stroud Fringe Festival features more than 400 performers. From the grand interior of the Convent venue to the intimate surroundings of my local, the Prince Albert, and the inventive programming of the Stroud Valleys Artspace, there is plenty going on.
• Art
Chalford is home to Pangolin Editions sculpture foundry – its gallery includes the work of the late (and local) Lynn Chadwick. Damien Hirst's main studio is also in Chalford. Line Gallery at Stroud Valleys Artspace has opened recently, and there's also the Museum in the Park, Gloucestershire Printmaking Co-operative and theLansdown Hall and Gallery to check out.
• Food
Independent cafes thrive in Stroud: the relaxed Black Book Cafe on Nelson Street has a vast array of books; and Woodruffs on the high street claims to have been Britain's first organic cafe; Star Anise Arts Cafe's menu is so unique it's has published its own recipe book; and the Upper Lock Cafe by Stroud canal is great in summer.
• Walk
It's no hidden gem but a visit to Stroud wouldn't be complete without a walk around the Slad valley, birthplace of Laurie Lee and the setting for Cider With Rosie, and a stop at the author's local, the Woolpack, for a pint of Stroud Breweryale.