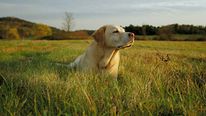 A trial to extend the lifespan of pet dogs has shown promise – with marked improvement in heart health.
Anti-rejection medicine rapamycin was given to dogs in phase one trials by evolutionary geneticists at the University of Washington, the Daily Telegraph reports.
It is usually given to humans who've had a kidney transplant, but was found to extend the life of mice by more than 25%.
A similar impact on dogs would give our canine companions up to an extra four years of life.
Trials on 24 middle-aged golden retrievers, Labradors and German Shepherds found low doses of rapamycin have led to improvements in heart health.
Importantly, there were "no significant side effects", according to Dr Matt Kaeberlein.
But he warned: "It is important to keep in mind that this is a small study that requires replication before we can be confident in these results."
A Labrador typically lives to between 10 and 12, while German Shepherds usually live for between nine and 13 years.
New trials will be carried out which will last between three and five years.
Rapamycin works as an anti-inflammatory, and also helps cells to flush out waste.
[Source: Skynews]