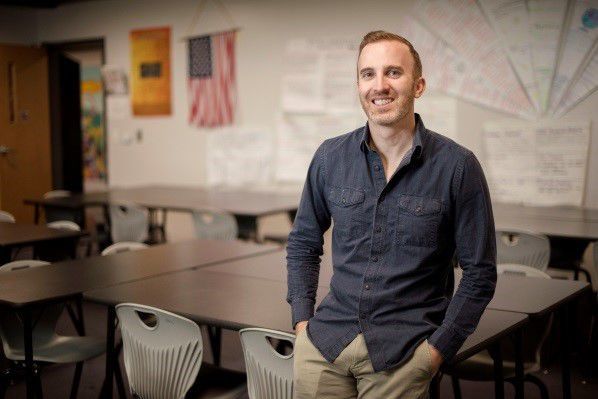 BASIS Tucson North's John Rosinbum has been named the Arizona Charter Schools Association 2018 Teacher of the Year.
Rosinbum teaches AP U.S. history and AP research courses at BASIS. The Charter School Association honored Rosinbum, saying he goes the extra mile to help his students and the BASIS network grow to their full potential — whether that's by organizing the annual Senior Tricycle Race or by serving as a subject adviser for BASIS.
"He is extremely reflective and intentional with every aspect of his teaching craft, reviewing student results and making adjustments: day-to-day, unit-to-unit, and year-to-year," the Charter Schools Association wrote in a press release.
Rosinbum started teaching at BASIS six years ago after finishing his doctorate in Oregon.
Apply for free STEM teacher training
The Arizona Science Center is accepting applications for its all-expenses-paid Science Teacher Residency training program.
The program, funded by a grant from the Helios Education Foundation, kicks off in January with five days of expert-led instruction at the Science Center. To qualify for the training, teachers must work for Title I-qualifying schools with majority Latino and/or Native American students.
The in-person training debunks common STEM-related myths and teaches participants how to formulate accurate, engaging lesson plans about various STEM subjects, the center says.
The program also connects teachers with potential classroom guest speakers, field-trip hosts and business professionals who use STEM concepts in their jobs every day. Following in-person training, participants receive a year of individualized mentoring and coaching.
Learn what it's like to teach in Tucson
Los Niños Elementary School will host a free screening of the documentary "Teaching in Arizona" this Thursday, Nov. 29.
The short film explores, through the experiences of three Tucson educators, what it's like to be a teacher in Arizona.
Los Niños teacher Tia Tsosie-Begay is one of the three Tucson educators profiled in the film.
Tsosie-Begay, a member of the Navajo Tribe of Northern Arizona, moved to Tucson in 1998 to study education at the University of Arizona. She has lived and taught here ever since.
The screening will start at 5:30 p.m. on Thursday and a guided discussion will follow.
["source=forbes]