Overnight clashes at 'Jungle' refugee camp after police confront people throwing stones at demolition teams
Migrants and refugees at the makeshift "Jungle" refugee camp in Calais are braced for another chaotic day, as demolition teams protected by French police resume clearing part of the camp.
Riot police fired more teargas overnight after an operation to dismantle hundreds temporary shelters sparked clashes on Monday.
Demolition teams returned to the site on Tuesday morning, after police fired teargas at about 150 people who were throwing stones at demolition teams.Video footage from a volunteer inside the camp showed residents running away from clouds of teargas.
Meanwhile, in another flashpoint in Europe's escalating migration crisis, teargas was also fired at people at Greece's border with Macedonia, where more than 7,000 are stranded. The Macedonian president, Gjorge Ivanov, warned that the refugee route through the Balkans would have to close once Austria reached its cap of 37,500 migrants transiting through this year.
In Calais, the French authorities say camp residents must move to shipping containers on another part of the site. They have also been offered places in 100 reception centres around France.
Local authorities, who have promised that no one will be evacuated by force, say 3,700 people live in the camp, and that between 800 and 1,000 will be affected by the eviction. But charities say a recent census they conducted counted at least 3,450 people in the southern part alone, including 300 unaccompanied children.
Many fear this will require them to claim asylum in France, and give up their hopes of travelling to Britain.
The UK-based Refugee Rights Data Project said that of the 460 residents asked what they would do if the camp was dismantled, 80% said they would remain in Calais or move to a more basic refugee encampment in nearby Dunkirk.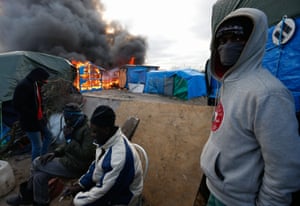 On Monday, migrants and members of the British "No Borders" activist group, who launched projectiles at the police, set fire to about 20 shelters at the camp, as running clashes continued through the afternoon. Three members of No Borders and one migrant were arrested, according to local government officials.
The demolition of the southern half of the camp began after a court petition by charities to stop it was rejected last week.
"It's infinitely sad to see the waste of so much work that we've done in the past months," said Maya Konforti of the Auberge des Migrants (Migrants' Hostel) charity.
On Thursday, David Cameron is due to hold talks about the migration crisis with the French president François Hollande. Britain has urged the French to stem the flow of peoplecrossing the Channel, and has funded a huge increase in security measures around the port and tunnel in Calais.
A spokesman for the Calais prefecture denied there was a vast new clearing operation under way. He said French officials from asylum agencies and other state agencies would continue to go from tent to tent to talk to migrants about their options, as they had done last week.
He said: "There is a reinforced police presence today to allow those officials to enter and talk to people. But this is a gradual process which will take place over several days and weeks. There will be no bulldozers."
Fabienne Buccio, the head of the Calais prefecture, said three-quarters of the homes in the southern part of the camp were empty after officials encouraged residents to leave over recent days.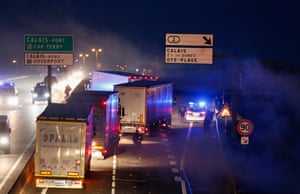 Lord Mandelson, the former UK cabinet minister and EU commissioner, warned that the migration crisis would escalate. Speaking on BBC Radio 4's Today programme he said: "Europe is grappling with an unprecedented crisis. I fear that this sort of crisis is going to grow as the Middle East becomes more volatile."
He added: "The solution to this is not just to throw up new fences and new walls … what we need in Europe is a much stronger system to police the external border of Europe.
"Europe in the future has got to devise much more robust ways of creating safe and legal routes for refugees and asylum seekers. and to recognise that while Germany has done an enormous amount and taken on a huge burden, there are responsibilities for the rest of us."
[Source:- Thr Gurdian]