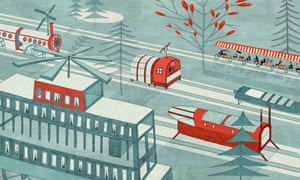 Last month, we asked students to pitch us their innovative transport ideas in 300 words or less. Our expert judges looked for a combination of originality, creativity and practicality, and ideas had to be based on technology that exists, or has the potential to exist.
Below are their final five shortlisted entries – and now it's up to you to pick a winner. Have a read and vote for your favourite at the bottom of the page.
The Loop, a magnetic monorail – Stephen Rowland
As the morning light touched the road, it scattered off the tiny solar cells embedded within it. The National Gridlock, they call it. These roads have been devoid of cars for years, now optimised only for pedal bikes and a frequent tram service. The whole transport system in this country has been revolutionised recently. The motorways have become algae farms, reducing the levels of CO2 in the atmosphere. In their place sits The Loop, a low resistance magnetic monorail constantly whizzing around the country. Like an ouroboros, its streamlined body forms a complete circle. Smaller Loops surround all the major cities.

Yesterday I boarded a carriage from my hometown with five other friendly passengers and marvelled as our carriage accelerated around our town and shot off to join the Loop that collects commuters from all the main commuter towns and takes them to London. It must be some computer system that efficiently sorts passengers going to the same place into carriages and accelerates them alongside the commuter Loop so they can slot seamlessly into an empty carriage-space without it slowing down! (It never stops … I've heard parts of it are detached for maintenance at regular intervals and replaced with spares)

I only bought an economy ticket, my boarding would have been faster had I booked a larger single carriage, but I had no need. They are subsidised for the physically impaired. I had booked a ticket to London on my smartphone, so when I was close to London, the route on my phone detailed that I was soon to decelerate off the commuter Loop to be parked in a tram station. However, the next carriage was travelling further afield, and I saw it accelerate onto the main Loop that takes passengers around the whole country. Marvellous!
Virtual reality tele-work – Liam Mullen
The future of transport is virtually around the corner. Trains, tubes and taxis will no longer be saturated with masses of eye-glued-iPhones. That is because trains, tubes and taxis need not exist.

The future of commuting, however, will be even more digitally and technologically immersive than it is today. Commuting takes you from your place of abode to your place of work. Who says that should be a physical process? Reflections of the future already point towards physical jobs adopting automation. Only our minds need to present themselves at work.

How do we tackle the environmental challenges of taking a growing population in a metropolitan area from home, to work and back? Remove the physical transport of human bodies. By doing so, one has now solved the problem of emissions, accessibility, bus replacement services and the tall person's armpit stench distracting you from gaining a high score on Candy Crush. Everyone is now a teleworker, clocking into a system of clouds, overcasting like a British summer day.

A government-wide system of fully engulfing virtual reality can be rolled out nationwide, funded by the reduced need for transport and business infrastructure. As motion capture, graphical performance and simulation improve – a 3D chamber that tracks and projects a human onto an avatar is within reach.

Distance and time will no longer be factors in commuting or daily life. Perhaps this is the first step to closing the cultural barriers in society and developing true citizens of the world. How do we tackle Orwellian governments, data-mining of citizens, tracking of actions? Subsets of independent cloud systems, for work, friendship groups, government information can be programmatically separated and independently quantum encrypted. Truly separating business, leisure and government surveillance. Truly combining locations, time zones and the people of Earth … in one collective consciousness.
Socialised fleet of self-driving electric cars – John Robert
The economic and ecological rationale for the present use of cars is weak: they spend the majority of the time idle, and are typically used by single occupants. Optimally, cars would be active and full for the maximum amount of time up to that necessary for their maintenance, recharging and cleaning. Under this model, cars, congestion and pollution would all be significantly reduced.

This can be realised by a socialised fleet of self-driving electric cars within modern cities, comprised of the following elements integrated into existing road-transport systems:

1. The hailing of cars through apps and appropriately distributed machines.

2. A coordinating algorithm with three key inputs: extant arrival-destination requests, expected arrival-destination requests, and car pit stops at given intervals. Routes based on these data-points would maximise average travel-time, while guaranteeing that no journeys fell below a set minimum travel-time. The data on which expected requests can be mapped is effectively self-generating, a product of past request meta-data.

3. A control hub which observes the system in real-time to modify the coordinating algorithm in response to emergencies, traffic and aberrational system-use, while updating users via social media and apps.

4. Pits for the regular recharging, cleaning and maintenance of cars, clustered in high-use areas.

An integrated, city-wide system means that all cars, arrivals and destinations are optimally reconciled to one another. Together with an ecologically-minded tax regime for personal cars, a self-driving system could revolutionise transport habits, while freeing the cityscape from private car-use.

The general trend towards automation will, besides from self-driving cars, demand a reconfiguration of work to redress the effects of the decoupling of income and labour. A socialised transport system is one facet of the solution.
One- to four-person drone taxi – Bradley Thomas
Any re-invention of pre-existing transport methods, such as a bus that operates above the road, is not the future.

To truly reinvent travel you have to look up: 1-4 person autonomous drones, stored in racks on top of buildings.

They would operate with both cloud-based and localised safety and navigation systems, such as semi-autonomous air traffic control at control towers and localised communication of positioning and radar data between drones, creating a constantly communicating, real–time safety network.

Users would hail them through an app with end to end encryption providing GPS location data and payment safely and providing a means of transport that could land in any nearby car parking space.

People may be apprehensive of such a system at first and its inception will likely incur a high cost of travel to start with. However this is like any new technology: there will be early adopters, and then over time the cost and concern associated with the technology will dissipate, much like air travel in the 20th century.

All systems are electronic and can therefore be powered by renewable sources, drones will have a service lifetime and be subject to routine maintenance like any other form of public transport.

Disabled access drones could be hailed in the app much like you can hail an accessible minicab, with a ramp and securing safety system.

The technology already exists to build man-carrying drones, but the infrastructure required to put in place such a system would take development, mainly the traffic control and safety network required to police such a busy airspace.

I know I'd commute by drone.
Green driverless car sharing app – Bernardo Cantone
A potential design of efficient future transportation system, is the fusion of two existing innovations, car sharing and autonomous vehicles (AVs), into a powerful app to augment their benefits.

Ideally, AVs would run on electrical engines, reducing CO2 emissions and noise pollution. They would be optimised to smooth traffic flow so as to reduce congestions, and the vehicle size could be reduced (depending on the local customer requirements) to save road space.

Furthermore, AVs would allow for the transportation of everyone, including non-licenced citizens such as the disabled, young and the elderly.

The augmented benefits from AVs car sharing would include the avoidance of inefficient parking (as cars would have limited time between bookings); and daily bus services in areas where demand is either infrequent or insufficient, could be substituted by flexible 'on demand' AVs to service communities in secluded areas.

The new app will provide a booking service using AV car-sharing, by showing car availability by location and include all travel solutions from other transport or car sharing apps. Thus, expanding the range of travel options and feasibility.

Furthermore, the app would provide details on the CO2 footprint of individual trips and provide a breakdown of each person's overall weekly CO2 expenditure. For short-distance trips, or upon reaching of a weekly CO2 expenditure threshold, bike or public transports would be recommended and a booking restriction may apply (though this would not apply to persons with reduced mobility). Thus aiming to increase environmental awareness in travel decision making.

A possible threat concerns the risk of a cyber-attack. However, if the technology would become an integrated part of a national infrastructure system, the likelihood of attack could be greatly minimised, as already demonstrated in power grids and air traffic control.
Which is your favourite idea?
Keep up with the latest on Guardian Students: follow us on Twitter at @GdnStudents – and become a member to receive exclusive benefits and our weekly newsletter.
[Source:- Gurdian]