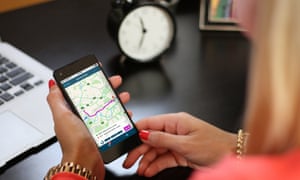 Millions of people buy their mobile phone service on a pay-as-you-go contract – and now we are being offered car insurance in the same way, paying just for the miles we drive.
In the next few months two start-up insurance firms will begin offering pay-as-you-drive car insurance products that claim to do away with the big up front annual premium.
The idea is simple. Users pay a flat monthly fee – about £10 to £30 – to cover the basic fire and theft element of the insurance, and then an extra charge on top to drive the car. The driver pays for each journey made, with it all being managed through a mobile phone app on a rolling monthly contract.
These policies will be aimed at city dwellers who take public transport to work and use their car infrequently at evenings and weekends for leisure activities – those typically driving 3,000 to 5,000 miles a year.
From the end of this month, a company called Cuvva will begin offering its pay-as-you-go car insurance to specially invited customers who will trial it ahead of an eventual nationwide rollout.
Cuvva will require the car owner to take out the monthly subscription – calculated according to the car, address, claims and driving history, etc, and taking into account any no-claims discount. It says car owners would have to pay an extra charge for each hour the car was driven – from £1.20 an hour and up, depending on the risk.
Cuvva, which already offers by-the-hour insurance cover for people driving cars belonging to friends or family, says that before every journey the user would log in to the firm's smartphone app and buy that journey's insurance.
It claims some low-mileage drivers would be able to save as much as £500 a year compared with a conventional annual policy.
Cuvva's founder, Freddy Macnamara, says he came up with the idea of paying for car insurance by the hour while discussing lending his car to a friend.
"I could order an Uber or a Deliveroo to my house, but I couldn't buy insurance for a short period quickly," he says.
"We realised that we could use the same mechanism to save infrequent drivers a huge amount of money."
In June it is expected to be joined by another tech start-up and rival, Just Miles, which has a similar proposition. Unlike Cuvva, though,its customers will be required to fit a free onboard telematics box that will monitor the car's every move.
Instead of charging by the hour, Just Miles says users would pay per mile driven.
James Blackham, co-founder of Just Miles, says these products will finally take car insurance into the 21st century.
"Consumers shouldn't have to pay full price for insurance when they aren't using their car – if they're on holiday, for example. We're doing it differently by treating our customers as individuals, building real-time policies that fit around them," Blackham says.
Cuvva will offer cover to drivers aged 21 and over, while Just Miles expects to have a minimum age of 25. There are no maximum age limits at this stage.
While Cuvva is registered with the Financial Conduct Authority and has an underwriter in place, Just Miles is still going through those processes.
Just Miles says its smartphone app would allow users to input their destination, at which point it would display how much they would pay for insurance to make that journey. This would allow them to decide whether they might prefer to cycle or take public transport instead, Blackham says.
Charges for longer trips are expected to be capped at 150 miles a day, meaning those heading off on holiday wouldn't rack up massive charges. At the end of the month, users would get a mobile phone-style bill showing an exact list of trips made. Customers would be able to use and earn no-claims discounts as they would with a traditional policy.
Both companies say customers whose driving habits change – for example, because they move house, change jobs, etc – would be able to move to a traditional policy at the end of the month.
Cuvva is not the first company to launch a pay-as-you-drive scheme. In 2005 Norwich Union launched a similar scheme aimed at drivers aged 18 to 23 It later expanded the scheme to all drivers but withdrew it in 2008.
Norwich Union, now Aviva, says that premiums and claims both fell by about a third, and that while the product was popular, it was ultimately not economical because of the high cost of providing the black box technology.
"I think we thought that more cars would start to feature built-in telematics, which didn't really happen. Ultimately, we were just a bit ahead of our time," an Aviva spokesman told Money.
Just Miles says the cost of the technology has come down dramatically since then. The fact that smartphones are now ubiquitous is the other big difference, it says.
Another firm, Insure the Box, has offered similar policies since 2010, but customers have to buy annual mileage (with a minimum of 6,000) rather than pay for each journey.
So will these policies take off? It's hard to judge whether they will offer real savings without looking at actual prices. If they do offer genuine savings to low-mileage drivers, they are bound to find takers. As with mobile phones, the fear of being landed with a huge bill for unexpected use might put off potential buyers. The lack of a telematics box in the Cuvva offering looks potentially open to abuse if users failed to declare short trips.
Having analysed the available information, Matt Oliver, car insurance expert at GoCompare.com, says these policies will have the greatest appeal to very-low-mileage drivers.
"Consumers are going to need to check closely whether these products will work for them, and I suspect that for most people it will still mean buying an annual policy.
"The pay-as-you-drive policies will still use rating factors like age, postcode, driving history, claims and convictions – and these factors are likely to influence the premium a customer pays far more than how much they drive their car," Oliver says.
[Source:- Gurdian]