At its Tizen Developer Summit 2015 taking place in Bangalore, India, Samsung has justconfirmed certain details about the Gear A smartwatch. Not only that, but the company has decided to also out a few features coming to future versions of Tizen, its in-house developed mobile operating system.
First off, let's start with the next iteration of Tizen, version 2.4. This will come with easy sign-up features, including single sign-on and "phone-based automatic certification". This sounds like it's similar to what happens in Android where you can use the Google account you've signed into your handset with for some apps which require registration.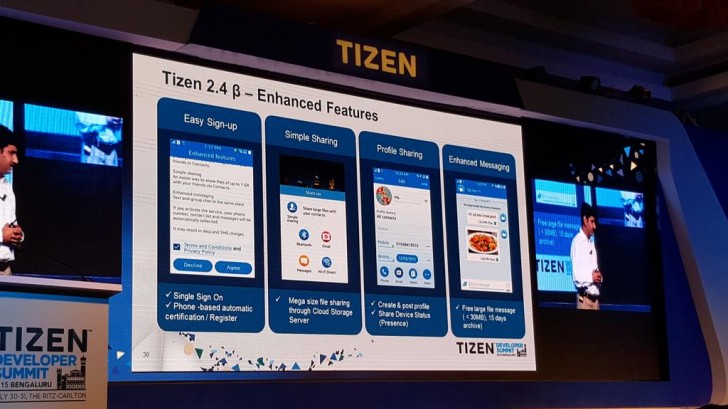 A simple sharing menu is coming to Samsung's OS, once again emulating a feature that's been in Android for a long time. Additionally, "mega size file sharing" will be possible through cloud storage providers.
Native support for navigation features such as geofencing, routing, and points of interest will arrive in Tizen 2.4 too.
For some reason you'll be able to create a profile on your phone which you can then share with friends, while also sharing your presence information – something that's a basic part of every mobile messaging app out there.
Finally, messaging itself will be enhanced with the ability to send large files for free, where "large" is defined as under 30MB. These will be stored somewhere for 15 days.
Moving on, Tizen 3.0 should be launched in late 2015 or early next year. It will bring support for multiple users on a single device, 64-bit processing capabilities, as well as an Internet of Things framework built-in.
Certain unnamed code changes will lead to reduced app launch times according to Samsung, and security is going to be enhanced and simplified at the same time – though we aren't given any more details on this for now.
[SOURCE- "gsmarena.com"]