Where to go to escape the stresses of life, the bustle of the workweek and the noise of traffic? To find out, we turned to question-and-answer site Quora, where users have been sharing their opinions on real places that look plucked from a fairy tale.
From an enchanting Alpine palace in Germany that rivals Cinderella's castle to a postcard-perfect English landscape that inspired Beatrix Potter and JRR Tolkien – these seven dreamy destinations are so magical, it's hard to believe they're real.
A giant patchwork quilt of kaleidoscopic colour
Holland's stunning tulip fields, with their broad stripes of vibrant blues, reds, pinks and yellows, "look like the artwork in a children's book", wrote Quora user Rahul Shankar. He added that this coastal region of the Netherlands "strangely reminded [him] of the Wizard of Oz".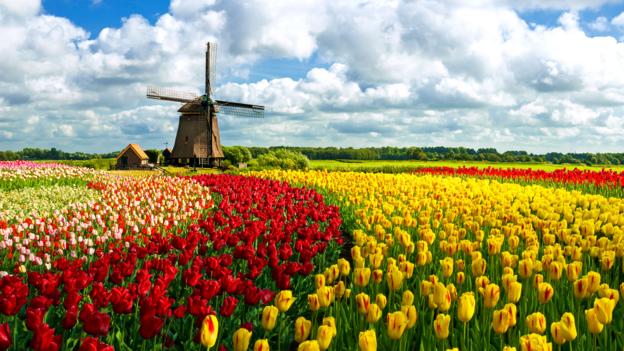 It's a modern pastime to circle the flower farms on foot, bike or via caravan, and the tulips have a rich, storied history. The flowers were imported into Holland in the 16th Century and peaked in popularity in the 17th Century – during the Dutch Golden Age – when they grew so coveted they created the world's first economic bubble: "Tulip Mania".
The most popular fields are located in western Holland between the cities of Leiden and Den Helder. Others are situated near the city of Enkhuizen and in the nearby province of Flevoland.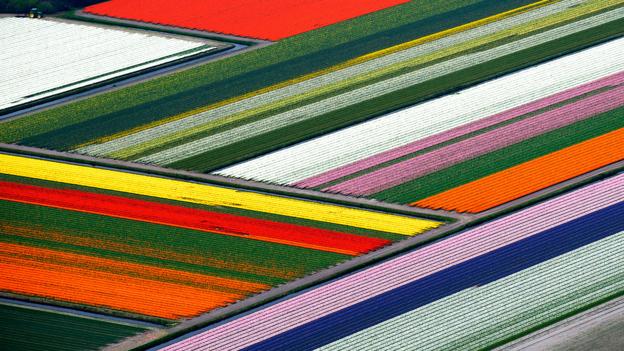 More than three billion tulips are grown in Holland each year, attracting tens of thousands of visitors each year. Tulip season spans from March until August, giving travellers plenty of time to view the vibrant display.
A fantastical figment of Gaudi's otherworldly imagination
With its intricate symbolic sculptures, monumental medallion-capped spires and wildly imaginative carved facades, the Sagrada Familia rises from Barcelona's urban setting like an elaborate Gothic castle ripe with stories, spirits and secrets.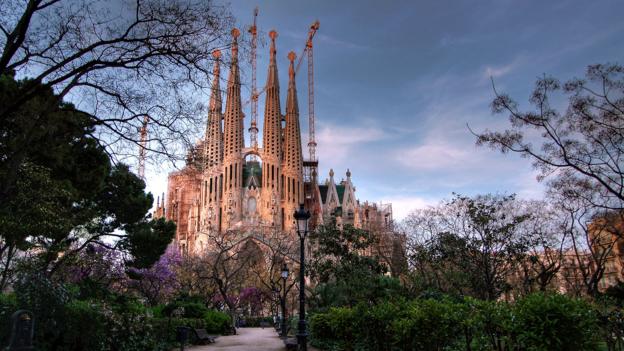 Designed by one of Spain's most famed architects, Antoni Gaudi, the history of this Roman Catholic church and Unesco World Heritage Site is a legend in itself. Construction began in 1882, but less than a quarter of the project was complete when Gaudi died in 1926. Since then, work has progressed slowly, disrupted by the Spanish Civil War, a fire and a series of contentious controversies. The happy ending? Architects plan to complete the project in 2026, the centenary of Gaudi's death.
Barcelona's most popular tourist site attracts three million visitors annually, and for good reason: it's a dizzyingly elaborate masterpiece unlike anything else in the world. Which is why, according to Aditya Pandya, it has put Barcelona on the map.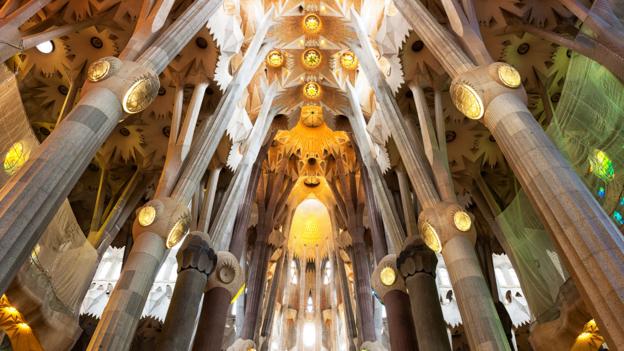 "Anyone who is familiar with Gaudí's work would appreciate his brazen and imaginative designs that left a lasting impression on Barcelona as a city," Pandya wrote. "Gaudí's phenomenal work between the late 1880s and 1920s is largely responsible for the city's vibrant personality and in being recognised as the cultural capital of Spain."
A setting that could steal the spotlight from any storybook hero
With its postcard-perfect valleys surrounded by glittering lakes, burbling brooks, rolling hills and craggy peaks, the Lake District in England's northwest is quite literally taken out of fairy tales.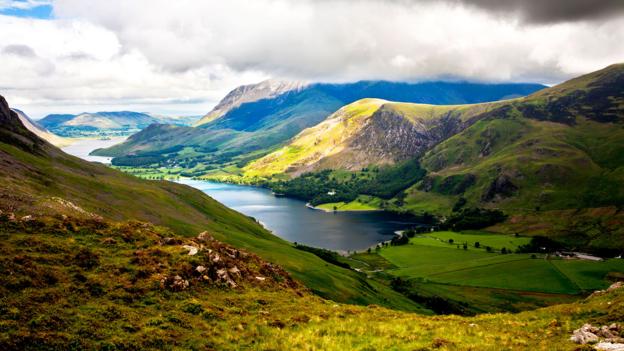 "This place was JRR Tolkien's inspiration for the Shire, Beatrix Potter's inspiration for Peter Rabbit and eponymous residence of the Lake Poets, including William Wordsworth, Samuel Taylor Coleridge and Robert Southey," Jeff Chau wrote.
Each year, 16 million visitors come to the 2,292sqkm Cumbrian national park for its lake cruises, mountain hikes and awe-inspiring sightseeing. For city-dwellers especially, it can seem like stepping into a storybook realm of undulating fells, whitewashed cottages and stonewalled fields where ponies roam.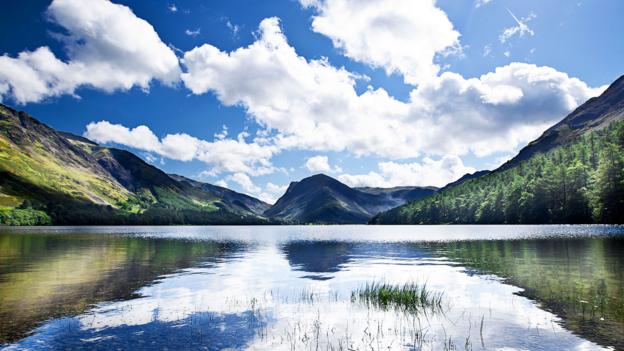 One of nature's most magical optical illusions
Once upon a time in the faraway land of the Faroe Islands, glittering Lake Sørvágsvatn (also known as Lake Leitisvatn) became known as the most striking of all of the islands' lakes.
At more than 6km long, it is the biggest in the Faroe Islands. And as the star of a clever optical illusion, the lake appears as if it's resting hundreds of metres above the sea, with the ocean churning beneath its placid waters.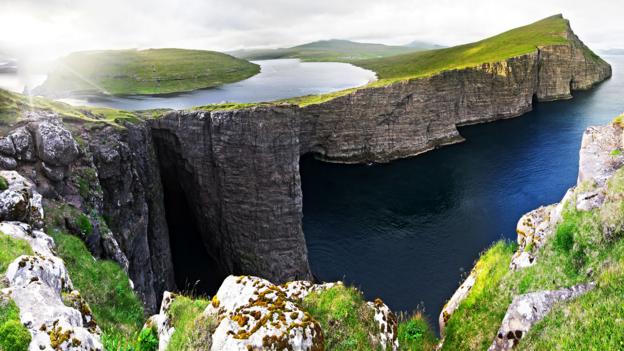 But nature can be deceiving, explained Aneesh Wairagade. In reality, Lake Sørvágsvatn is actually no more than about 30m above sea level. A steep cliff in front of the lake and a clever camera angle make the lake appear to be much higher than it really is.
Visit the 18 rocky, volcanic islands connected by tunnels, ferries, causeways and bridges, and view Mother Nature's oddest optical illusion on the island of Vagar. The islands are also home to other natural attractions, such as rare birds, dramatic coastal cliffs and grassy meadows dotted with sheep.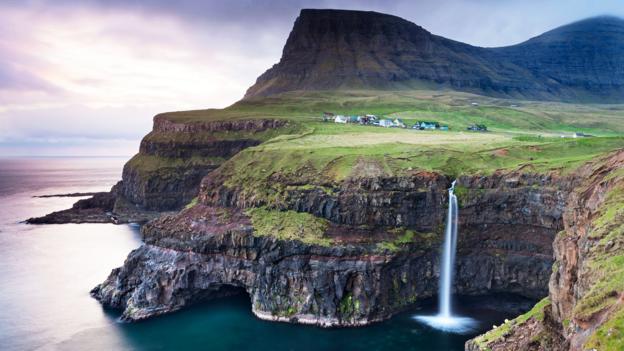 The ultimate cliff hanger
Jutting out dramatically above the reflective waters of Lysefjord, the spectacular precipice of Preikestolen in Ryfylke, Norway, could be the setting for any mythic Hollywood epic.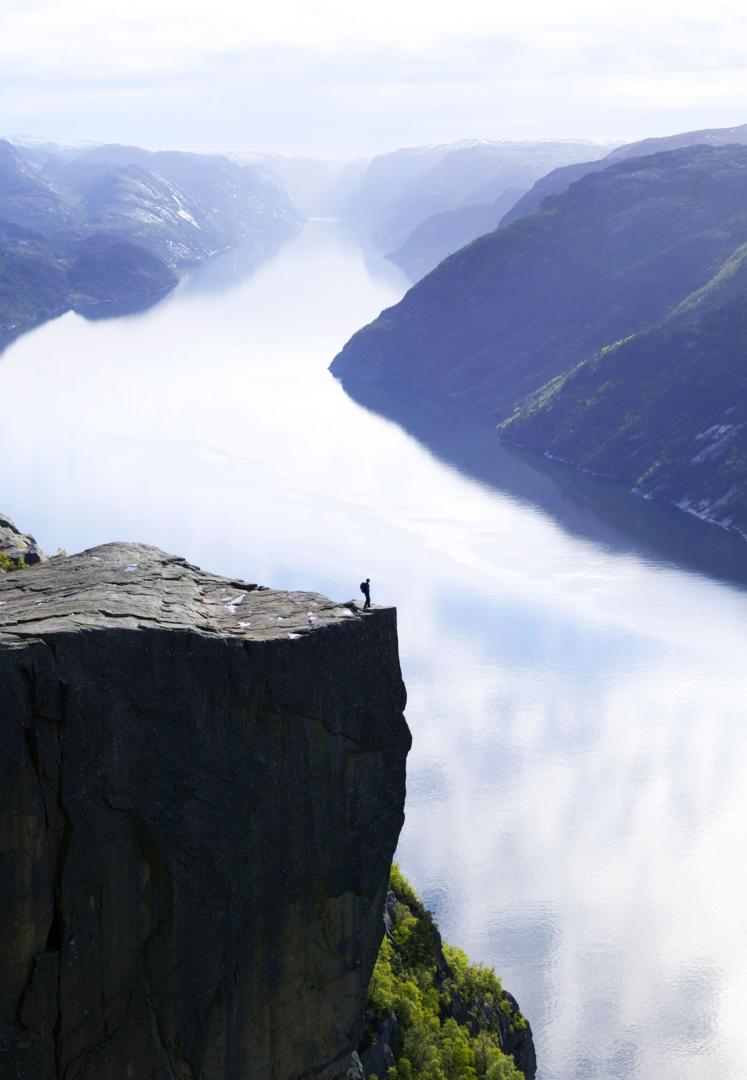 Also known as Preacher's Pulpit or Pulpit Rock because it resembles a lectern, Preikestolen is a rocky 25m by 25m rocky plateau that towers 604m above the crystal-clear waters below. According to Derek Harkness, it looks "like something from the Roadrunner cartoons".
The steep cliff was formed during the Ice Age about 10,000 years ago, when the edges of a glacier bumped up against the surrounding mountains. Water from the glacier penetrated the crevices of the mountain and froze, eventually breaking off colossal portions. Left behind was the dramatic precipice of Preikestolen.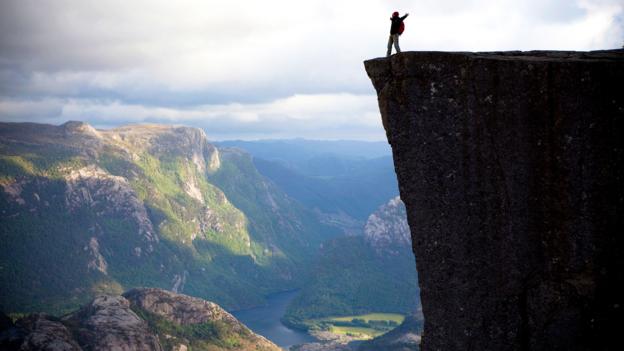 Ice Age-era cracks in the plateau will eventually expand and fragment Pulpit Rock into a pile of rubble – but, according to geological investigations, not in the foreseeable future.
'If I were a princess, I would want my castle to look like this'
If you don't believe in fairy tales, you will after you set eyes on Neuschwanstein Castle. An enchanting Romanesque Revival fortress that rises majestically from the Alpine foothills of southwest Bavaria, this picture-perfect palace is rumoured to be the inspiration behind Sleeping Beauty's Castle in Disneyland and Cinderella's Castle in Disneyworld.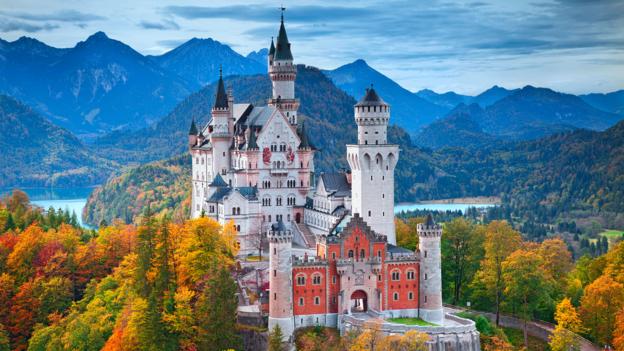 Straight from the dreams of little princesses across the globe, this magical palace has everything a fairy tale castle should: a romantic setting, a glowing limestone facade, fanciful turrets and an elaborate interior featuring shining suits of armour.
"It seriously looks like Prince Charming and his lovely wife are going to step right out of the front door to greet you," wrote Danielle Maurer. "If I were a princess, I would want my castle to look like this."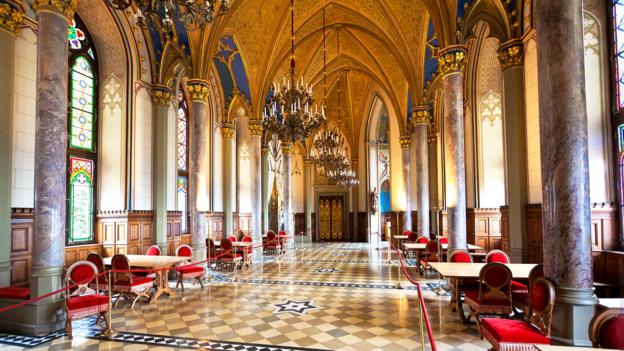 In reality, the castle was originally commissioned as a personal retreat in 1869 by King Ludwig II, the reclusive ruler of Bavaria. Immediately after his death in 1886, it was opened to the public and today more than 1.3 million tourists visit each year.
A zany Alice in Wonderland creation, reflected in a fun-house mirror
"This isn't an illustration in a fairy tale book; this is a real house," wrote Bruce Feldman, describing Poland's fantastically topsy-turvy Krzywy Domek, or Crooked House.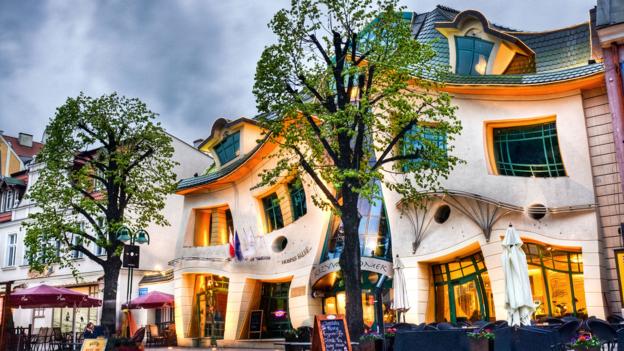 With its undulating roofline and warped windows and doors, this 4,000sqm building "was inspired by the fairy tale illustrations of [prolific children's book illustrator] Jan Marcin Szancer and the work of artist Per Dahlberg," Feldman explained. The vertigo-inducing building in the seaside resort town of Sopot houses a shopping centre, restaurants and a radio station, and draws thousands of tourists each year to see the modern architectural marvel for themselves.
["source -bbc"]