The Liberian city of Robertsport is blessed with four pillars of surfer nirvana: perfect waves, warm water, an empty line up and an exotic locale. And despite being located less than 100km south of the capital Monrovia, the last stretch of road to reach the city passes through lush jungle so reminiscent of Jurassic Park, you almost expect a pterodactyl to fly out.
But just as Liberia was struggling to rebuild its war-torn infrastructure after 11 years of near continuous civil war, the country found itself at the epicentre of a headline-grabbing Ebola epidemic in 2014 – a double whammy that would deter almost any tourism developer. Almost any, of course, except Daniel Hopkins and Sean Brody. This stretch of beach, jungle and fishing villages was exactly what the two American surfers and MBA holders had been seeking.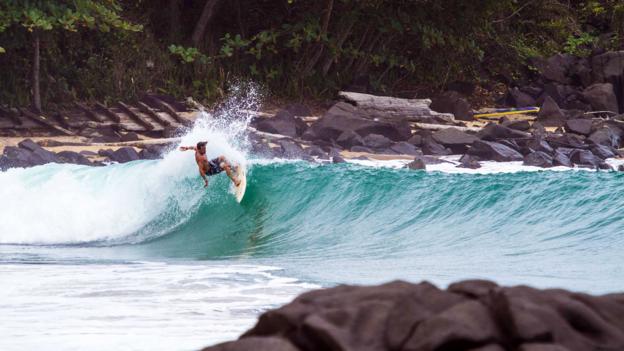 Perfect waves, an empty line up and an exotic locale
Long before Ebola hit, the pair had been looking for the right place to launch a sustainable surfing initiative that incorporated local needs, input and labour. And Robertsport, where most people live in homes of corrugated aluminium or a composite of sticks and mud, with the occasional restored concrete house, proved to be the perfect place. The undeveloped region was beautiful, and had a populace in dire need of new opportunities.
Ever since the 1966 surf classic, The Endless Summer, the quest for the perfect wave has been part of nearly every surfer's psyche, driving explorers to rarely-surfed places like Indonesia, Papua New Guinea and Costa Rica. West Africa was no exception: early surf journalists discovered Robertsport in the 1970s – just as the nation was entering a period of economic and political turmoil that led to a military coup d'état in 1980, followed by the start of the first civil war in 1989.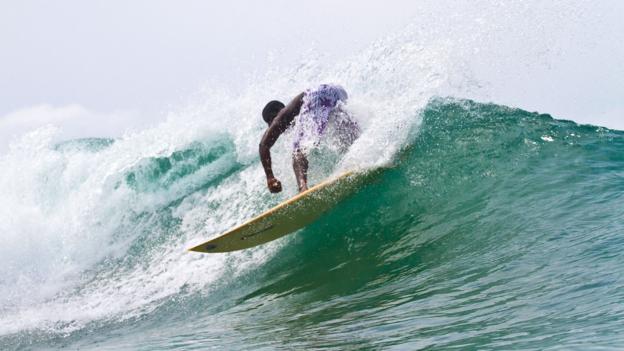 But such was the siren call of Robertsport's waves that within few years of the two civil wars' end in 2003, surfers began returning. A 2006 documentary, Sliding Liberia, put Robertsport and its epic barrelling left-handers back on the surfing map.
Brody arrived in Robertsport in 2009 while working as a photographer for Surfari, a US TV show about the travels of the McIntyre surfing family. During the shoot, he met Liberian surfer Benjamin McCrumuda, who had an uncanny ability to summon waves.
"He'd ruffle his hands in the water and call 'Kway-pu-na!' [big sea wave come!] in the local Vai dialect," Brody recalled. And Brody would look out to the sea, a series of swells would stack up on the horizon and the waves would come steaming in.
He fell in love with the place.
"He fell in love with the place and wouldn't stop talking about it," Hopkins said.
So in 2012, when the two were ready to launch their business, they had the name: Kwepunha Retreat.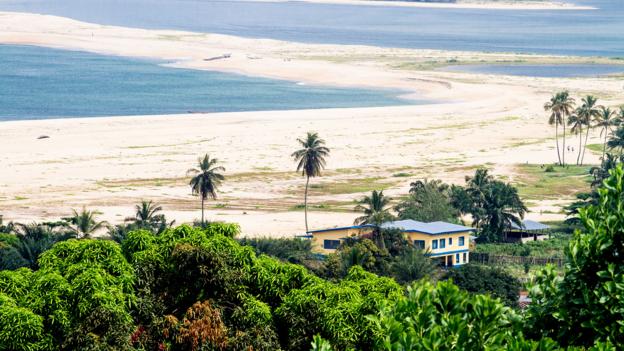 It took enormous work to make Kwepunha a reality. Aided by local workers, they repaired the ruins of a luxury hotel built in the 1970s – remnants of Robertsport's glory days as a beachfront getaway for wealthy Europeans. They pulled out trees that had sprouted in now-roofless living rooms and filled in walls pockmarked with bullet holes to create an airy hostel, an upscale villa and a taco stand with a deck over the ocean. A local craftsman made Kwepunha's rattan furniture; others helped paint walls in vibrant reds and yellows. Lush stands of mango, guava and papaya trees just behind the resort made for the ultimate in close-to-the-source cuisine.
Their next step was to start the Kwepunha Surf Academy, working closely with the Liberian Surfing Association. They set up a surfboard-sharing programme for Robertson's youth – participants qualified by attending school and enrolling in lifeguard training courses at Kewpunha – which had the end result of turning locals into accredited surf instructors.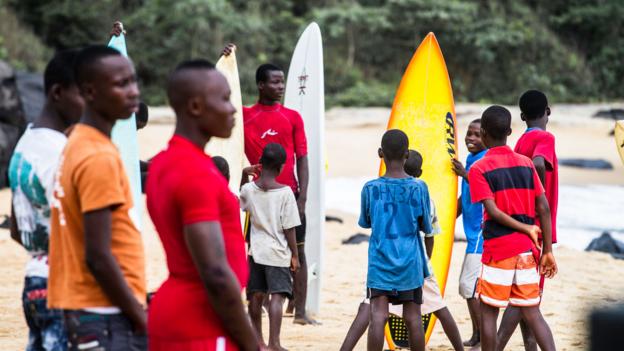 Hopkins estimates that Kwepunha has employed hundreds of staff since its inception, with about 15 full-time and 25 part-time employees during peak season. The pair also began a community-led total sanitation effort, with projects such as twice-monthly beach clean-ups.
Business began building: first expats from Monrovia followed by overseas tourists. "We had guests from 40 different nations," said Brody. And they all came for Robertsport's left-hand waves, which go on "forever", he added.
Kwepunha was so popular that Hopkins and Brody began booking groups, ranging from yoga aficionados to university students looking for sustainable development immersion experiences. A major surfing magazine, Zigzag, scheduled a photo feature at the retreat.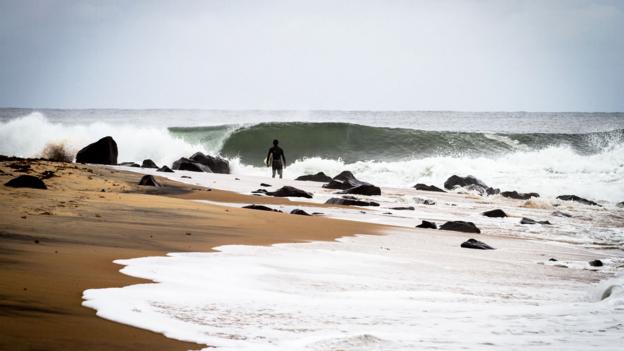 Then, Ebloa hit.
That meant quarantines, military checkpoints, travel bans – and no photo shoot. By August 2014, the last of Kwepunha's guests had departed and both Hopkins and Brody had evacuated.  The epidemic certainly hadn't been part of the original business plan – but in many ways, it expedited the duo's original goal: Kwepunha became a locally run enterprise within two years, instead of five.
Through it all, the surf kept rolling.
"With Ebola, we had no choice," Hopkins said. The Liberian staff maintained the resort; Hopkins and Brody held stateside fundraisers to make payroll. They also raised money for the Kriterion Group: Liberians who went door-to-door in Robertsport explaining anti-Ebola hygienic practices.
Robertsport stayed Ebola-free throughout the epidemic.
Through it all, the surf kept rolling.
As the Ebola crisis eased, so did travel bans; Hopkins was back on site in January 2015 (Brody remains in the US; he and his wife recently had their first child). In May, the US Center for Disease Control ended its advisory against non-essential travel to Liberia, and expats – some who had never left, others who began trickling back – were once again heading to the coast.
Zigzag magazine rescheduled its shoot, returning a little more than 12 months after the originally scheduled visit.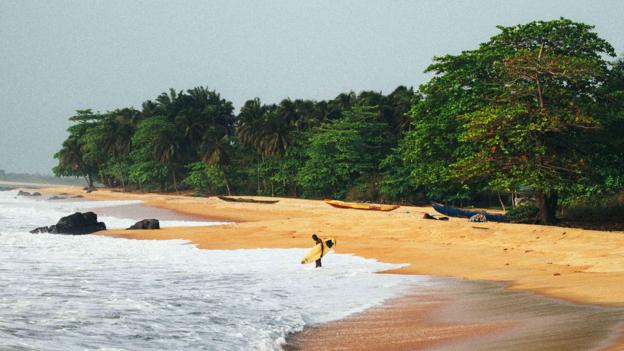 Today's visitors can once again surf at Kwepunha, enjoying this 300-plus-day-a-year surfing spot and long series of left-hand breaks. They can take surf lessons from local instructors and rent boards, although experts are encouraged are to bring their own and consider donating them to the endeavour. When they're not surfing, guests can try spear fishing or go on guided nature walks along the beach or into the mountain jungle.
And in the process, they're doing their part to make the image of Liberia that of a child surfer, not a child soldier.