TheSkoda Kushaq has been off to a good start and has managed to help its manufacturer further consolidate its position in the market. However, the initial batch of the C-SUV was marred by EPC error, which led to several carmakers finding themselves stranded in the middle of nowhere. However, Skoda Auto India was quick to deal with this problem by changing the original fuel pump to a more robust unit that was compatible with the lower quality petrol that's sold in India. While some Kushaqs continued facing this error even after getting the replacement fuel pump, it looks like it has finally put this issue behind it as no more fresh cases of EPC error have come to light.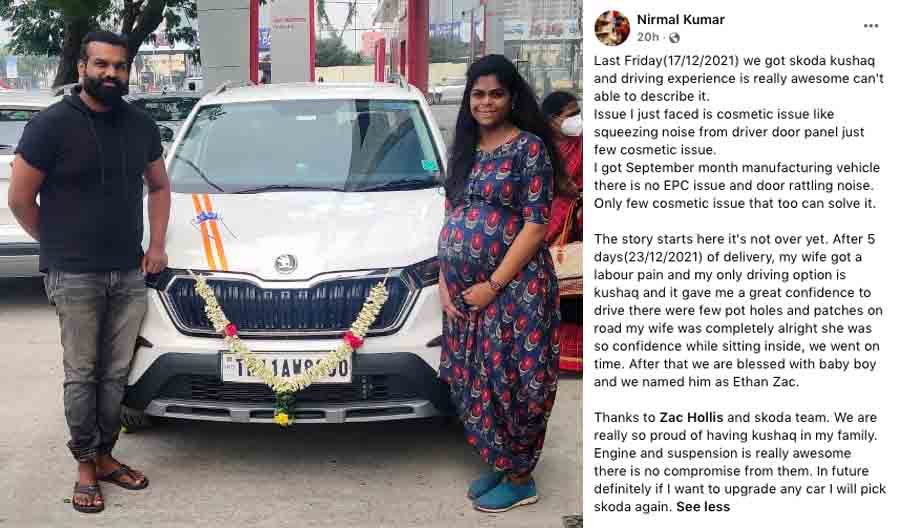 With this, several Skoda Kushaq owners have now come forward with their appreciation for this product. Also, everyone has been all praise for the great approach take by Zac Hollis towards solving the customer grievances. Not only has the head honcho been highly active on the social media to get in touch with the customers but he has personally looked into the problems being faced by many owners. It is therefore no surprise that many Skoda customers have got too fond of Zac. Today, we'll bring to light a case of a Skoda Kushaq owner who has named his newborn after Zac.
This issue goes on to show the trust Skoda Kushaq owners have developed in their vehicles along with also reflecting the respect they have for Zac Hollis. Our best wishes go out to Nirmal Kumar and his family, and we really hope this compact SUV goes on impress all its owners so highly.
["source=carblogindia"]