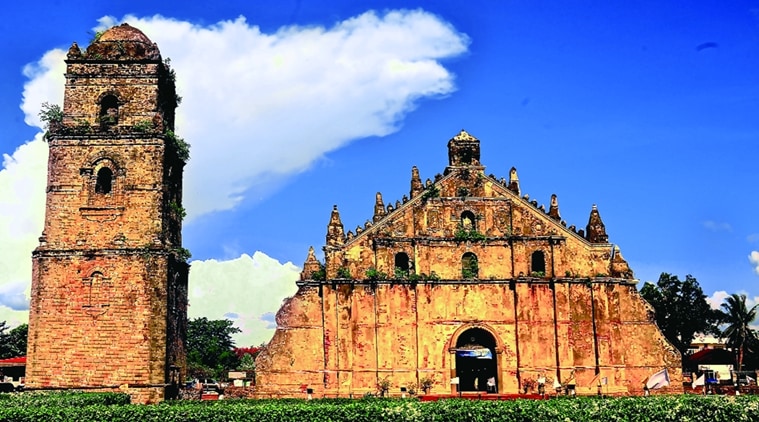 In the Puerto Princesa Public Market, pink duck eggs lay stacked next to white hen and pied quail eggs, eggs so pink that a flamingo would want to borrow it for its plumes. The crowd was milling in the Philippine island of Palawan and I heard a voice piping in the clamour of a marketplace. "Want an embryo for a snack?" After a long day rowing inside an underground river, one of the New Seven Wonders of Nature, I sure required nutrients. But an embryo? I thought my ears were ringing. Allan Stephen M Luneta, the guide, was offering sustenance. "It is a 17-day embryo. It is boiled but when you crack the egg open, the head and feathers of the chick are visible." Allan was getting descriptive and my hunger was dying with every thought of wolfing a boiled embryo. I am not a Filipino. I cannot daub the embryo with vinegar, throw a dash of salt and then gobble it at one go. It was a vehement "no" for balut, the fave street food of the Filippinos.
In the Philippines, there's a menagerie on the menu. Grilled, barbecued, sauteéd, boiled, simmered, baked. Monitor lizard diced and sauteed, pig blood stewed into a pudding, snake as snack, monkeys for a feast, red ant eggs to munch. And crocodile served with rice. Do not dismiss the croc. For the locals, the croc is a doc. Crocodile meat, I mean. It is an antidote for a bad heart. It lowers your cholesterol, raises the libido. Crocodile meat is considered an aphrodisiac and the best way to eat the meat of the aquatic reptile is to turn it into a sisig.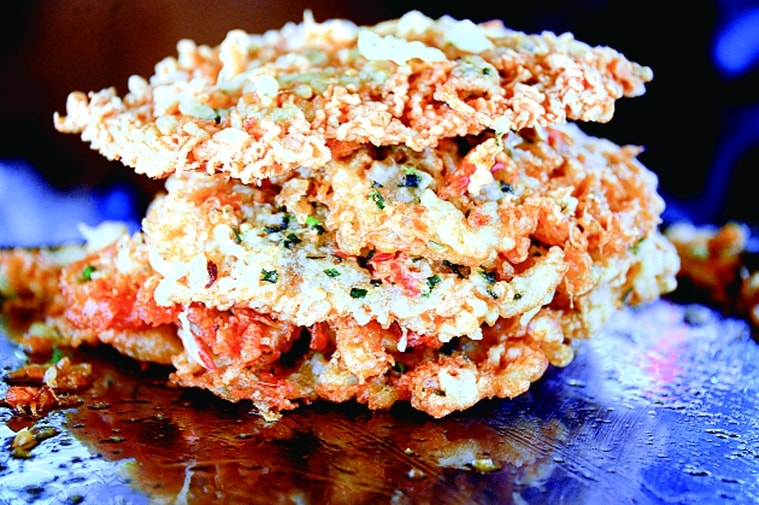 Fried okoye. (Source: Preeti Verma Lal)
In a nation made of 7,000 islands, there is no one menu that fits all. In the southern region of Mindanao, raw seafood is preferred, rice is cooked with turmeric and cassava cakes are the end-of-the-day dessert. In Bicol, gata (coconut cream) is the kitchen monarch. In the Visayas, opt for scrumptious lumpiang ubod (heart of palm in soft crepes) while the Bulacan chefs puff about what they claim are the best relleno and galantina (stuffed chicken rolls), estofado (pork leg), asado (pot roast) and kare-kare (oxtail stewed in peanut sauce). The Ilocos make the best bagnet (deep fried pork belly) and love their pinakbet — a combination of tomatoes, aubergine, bittermelon, lima beans, okra and squash, all bound together with bagoong (salty sauce made from fermented fish or shrimp). What is ladled on to the plate is melded from three cultures — Spanish (bay leaf, coriander, tomatoes), Chinese (soy sauce and noodles), and Malaysian (peanut sauce and salted fish paste).
However hungry you are in the Philippines, never forget to be repetitive. Say the dish name twice. Repeat with me — halo-halo (icy dessert). Kare-kare (beef in peanut sauce). Sapin-sapin (sticky rice). Lapu-lapu (a fish variety). Bilo-bilo (sago dessert). Try this: for a bait-bait halo-halo, step into a turo-turo (Read: For a very good icy dessert, go to a local eatery). I thought that was too much tongue twisting for a dish and then I heard Filipino nicknames: Nognog, Bongbong, Junjun, Katkat, Bingbing, Leklek, I was intrigued until Boyet Sayo of the Philippines Tourism dug the linguistic roots. Born out of the Malayo-Polynesian family, all languages in the Philippines are agglutinative in character (words are glued to form new words).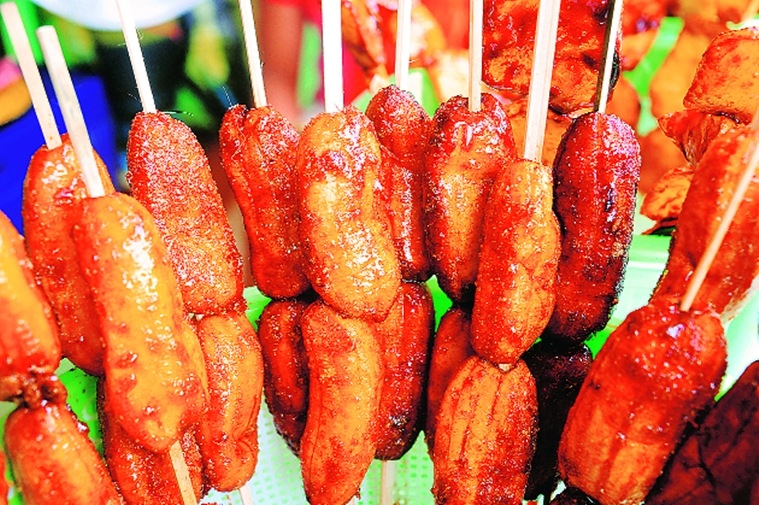 Caramelised banana. (Source: Preeti Verma Lal)
A week in the country that borrows its name from King Philip II of Spain and I was getting good with playing with words. Soon, I started playing with fire. Rather, kindling it to cook. At Pamulaklakin Reserve in the Philippines' Subic City, Ta-ta Kusoi, an Aeta tribe elder, was shaving bamboo with a sharp, long knife, to teach me how to make a fire without a matchstick. Wearing a red loincloth and a red headband, the bare-bodied Kusoi was guffawing at his own jokes and knifing green bamboo to make fork, spoon, chopsticks. "Now, make fire. No fire, no cook. In jungle, no matchstick. How cook? Friction. Friction. Only friction." He hooted at his infallible logic. He handrolled the bamboo shavings into a ball, hid it under a bamboo hollow and then used his knife to create friction. He looked up, raised an eyebrow and insisted "friction, you know, friction". I peered hard for any hint of smoke. In a few seconds, a grey ribbon curled out of the bamboo slit. He blew harder. Then, as if magically an orange flame crackled. There was fire. No matchstick. "Friction. See, friction." Kusoi whooped with delight. He picked an arrow and aimed into the sky. I picked a grain of rice from the bamboo hollow. In the Philippines, the crocodiles and the lizards can live. For me, a grain of rice was bait-bait (very, very good).
Must-eat in the Philippines
Halo-halo: A serving of milk topped with ice cream, finely shaved ice and dollops of milk flan, gulaman, ube, banana, kaong, beans and garbanzos.
Bicol express: A stew made with coconut milk, long chillies, shrimp paste or stockfish, onion, pork and garlic.
Adobo: Mexican in origin, adobo is meat (often chicken and pork) in vinegar, salt, garlic, pepper, soy sauce.
Lechon: Whole pig spit-roasted over coals (sometimes, stuffed with star anise, pepper, spring onions, laurel leaves and lemongrass) and served with liver sauce.
Chocolate meat: Pig offal cooked in pig blood. Locals call it dinuguan; the chocolate in the name comes from the colour of the cooked blood.
Fish tinola: Fish broth flavoured with onions, tomatoes, tamarind, and cooked over coco-lumber firewood for hours.
["source-indianexpress"]