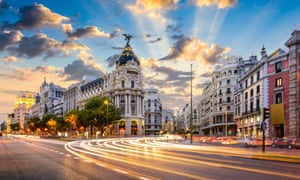 Madrid is a dynamic city, full of gastronomic pleasures, late nights, art and music. In recent years it has added important art galleries and avant-garde restaurants – without losing its soul. It has the same rustic tavernas and unfussy bars that writers such as Ernest Hemingway fell in love with in the 1920s.
A well-located place to stay is One Shot Prado 23 (doubles from €87 B&B, hoteloneshotprado23.com), offering easy access to the golden triangle of art: thePrado, Reina Sofia and Thyssen-Bornemisza museums. Also close by are the bohemian neighbourhoods of El Barrio de las Letras and La Latina, with great bars and restaurants open until late. Be sure to bar-hop Calle Cava Baja, a long street in La Latina full of places serving good wine and tapas.
On day three take the A1 78km north to Buitrago del Lozoya. On a promontory inside a wall of Moorish origin, Buitrago has one of the most attractive centres in Madrid province. Walk the ninth-century wall, see the castles and churches, and drop in for lunch at Bar-restaurante El Espolon (Calle Real 60), where typical dishes include clams with artichokes, and cocido, a meat stew with vegetables and chickpeas. Stay one night at the La Beltraneja (doubles from €100 B&B), a comfortable hotel with original stone walls and exposed beams from the town's castle.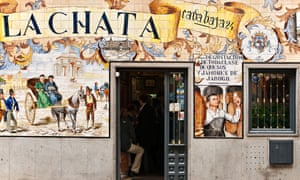 An hour-and-a-half north is Burgos, the historic capital of Castille. Check in to Hotel Via Gotica (doubles from €70 room-only), which overlooks the Arlanzón river. Burgos's historic centre has been impressively restored: its tree-lined streets and palace-lined squares are idyllic and the cathedral is one of the most impressive in Spain. Most importantly, however, don't forget to sample the city's restaurants. For food typical of the area, try Ojeda, Casa Avelino and La Favorita. All these places serve morcilla de Burgos, crisp black pudding with rice, which is the city's most famous product.
On day six, head north on the N627 to the Cantabrian coast. As you leave the Castile and enter Cantabria, the landscape becomes mountainous and green – more Switzerland than Spain. Stop for two nights in San Vicente de la Barquera, a picturesque fishing port set against the 2,500-metre Picos de Europa mountains. Stay at Hotel Azul de Galimar (doubles from €70 room only, ) and eat great seafood at El Retiro in the town centre.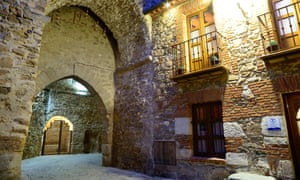 An 80-minute drive west is the charming city of Oviedo, in the neighbouring and similarly lush Asturia region. Famous outside Spain for its appearance in Woody Allen's film Vicky Cristina Barcelona, the city is known among locals for green squares, beautiful architecture and a street rammed with cider houses. Hotel Clarin (doubles from €70 room only) is good value and well-placed, and from here take a jaunt down the Calle Gascona, home to an endless array of sidrerias, where dexterous waiters pour shots of cider into glasses from improbable heights. Many also serve fava stew, a big pot of white beans cooked with smoked meats and sausages.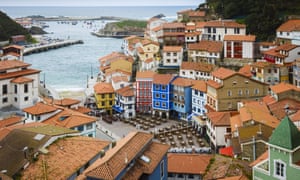 It's a 40-minute drive north-east on the A66 to the fishing village of Cudillero. Stay a few nights at La Casona de Pio (doubles from €71 room only) and enjoy the town's pastel-coloured houses, which make the main square into a residential amphitheatre. The best thing to do here is lose yourself in the town's narrow alleyways, but make time also for a trip to the emblematic lighthouse, which perches like a heron on the rocky cliffs.
On the 12th day, cross into Galicia, Spain's most westerly province. Like neighbouring Asturias, Galicia has a strong Celtic vibe – with rugged, rocky landscapes, gaitas (local bagpipes) and excellent seafood. Stop off in the village of Viveiro, on the estuary of the Landro river. A medieval town of some 16,000 residents, Viveiro has cool, grey and whitewashed facades, offering an interesting contrast to the technicolour houses of Cudillero. The Urban Hotel in the town centre (doubles from €70, urbanviveiro.es) is a good place to stay, and restaurant Meson Imperial offers great value, no-nonsense seafood.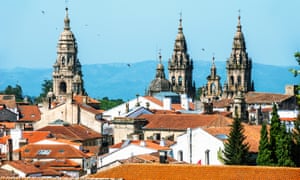 For the last two days of the trip, head south for 160km on the LU-540 to your final stop of Santiago de Compostela. Famous for being the end point of the Camino de Santiago pilgrimage, this small city is saturated with architectural wonders. Have a long lunch at O Dezaseis (mains from €14) in the old town, and then spend the day meandering through Santiago's streets, taking in the stone arcades, Renaissance courtyards and baroque buildings. Stay at Hotel Pombal (rooms from £65), on the Obradoiro square, and you have views of the magnificent western facade of the city's cathedral.
Total distance: 917km
• EasyJet, Vueling, Iberia and Ryanair fly to Santiago de Compostela from London airports. Various airlines fly to Madrid
["source-theguardian"]