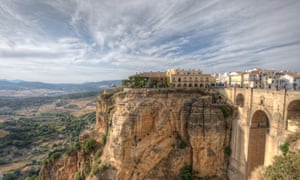 In Málaga enjoy arty sophistication before heading into the wilds. Of the city's many museums and galleries, the Carmen Thyssen, the Picasso Museum and the Contemporary Art Centre cover the classics and the surprising. The Muelle Uno complex on the harbourside is a nice, glitzy place to browse white clothes and drink wine by yachts before walking east along the seafront to Playa de la Malagueta for a swim. (For those who want more serious beach time, the gorgeous coves of Nerja are just an hour's drive away.) The modern Hotel del Pintor (doubles from €69 room-only) is a fine example of the old town's affordable accommodation options, while La Esquinita del Chupa y Tira (Calle Victoria, 31), a tabanco – corner shop-cum-bar – below the slopes of the Gibralfaro castle, is a refreshing alternative to touristy tapas bars.
On day two, take the A45 north to the historic but often overlooked town of Antequera (55km). Highlights include 5,000-year-old dolmens (in what's now a Unesco world heritage site), wolves at the Lobo Park wildlife sanctuary, an 880-metre-high Lovers' Leap with a tragic Muslim/Christian legend, and scenic walking in El Torcal natural park (signposted from Villanueva de la Concepción). End the day with a drink in Antequera's splendid Plaza de San Francisco, modern gastronomy up the road at Arte de Cozina (from €25 a head), and a night at the modern Parador de Antequera (doubles from €95 B&B, parador.es) with its big windows, pool and views, or Convento de la Magdalena (doubles from €85 B&B), which is grand, historic and good value.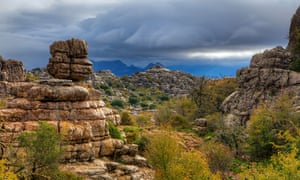 On day three go west towards Ronda (A343, 2hrs, 100km), but pause roughly halfway at El Chorro and shuffle along El Caminito del Rey, a scary suspended walkway in a slash of a river gorge (booking essential, from €10pp). Then it's on to Ronda, straddling another spectacular gorge, with lots to see. Staying in the quieter hinterland at Molino del Arco, an 18th-century farmhouse hotel with doubles from €85) lets you visit local wineries, too. Descalzos Viejos and Federico Schatz are recommended.
On day four, loop north-west, starting on the A366. Take in Setenil de las Bodegas, with its cave houses (former wine cellars) under heavy brows of rock; the Roman amphitheatre at Acinipo; and lunch in the church square of "white village" El Gastor. Then turn south-east through cork forest, wild rock formations and the vast, wide valley of Montejaque. This is an 80km drive all told, and ends 20 minutes west of Ronda.
From Montejaque, head downhill to Benaoján, with its river and railway station. A popular stay is Molino del Santo (doubles from €122 B&B); enjoy dinner there by the rushing water. Or cross the Guadiaro river to cheaper but charming stone-walled Hotel Cueva del Gato, by the icy swimming hole and cave of the same name (doubles from €45 B&B).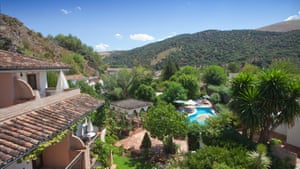 On day five, start with a lantern-lit viewing of the 20,000-year-old cave paintings at nearby Cueva de la Pileta then head west via Jimera de Libar before cutting south on the road above the Genal valley (A369) past small, dense, white hill villages; the mountains of Africa may be mistily visible beyond. Stay at Hotel Banu Rabbah (doubles from €60 B&B) in Benarrabá, where you dine under pines on a terrace overlooking green mountains, and fall asleep to the sound of owls. This is prime hiking country, or the villages of Benalauria, Benadalid and Jubriqueare a short drive away. Tip: always park on the outskirts (by the bins) and proceed on foot.
On day seven, take a scenic drive north through cork forest into Sierra de Grazalema natural park (A373, 75km). Pause in Ubrique a mid-sized white town famed for art, leather (visit its Museo de la Piel), and an off-the-beaten track ruined Roman settlement, Ocuri. You'll pass the picturesque village of Villaluenga del Rosario, where an inordinate number of villagers are involved in cheesemaking. Continue to Grazalema, and the bucolic haven that is Hotel Tambor del Llano (doubles from €80 B&B) just below it.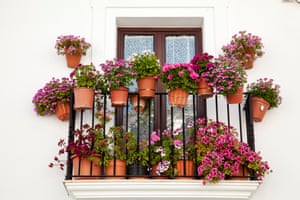 Allow a couple of nights here because there's lots to do. Explore by bike or on horseback, or hike through gorges and valleys lined with pines, bald peaks and limestone stacks. There are good local places to eat in the villages of El Bosque (Lo de Pepe, near the park information office, does barbecued meat at weekends), and pretty, flower-filled Benamahoma: (the shady terrace of Venta el Bujío is good for cooling off.
Grazalema itself is immaculate and glorious, an escape from Seville and Cádiz, and a place for long weekend lunches. While not an obvious choice in July, the village's woollen blankets and ponchos, produced since the 17th century, are a great buy. For picnic supplies, the excellent Quesería la Abuela Agustinaspecialises in local cheese.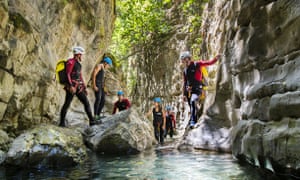 On day nine, drive the hairpin bends of the CA9104, with almost aerial views of mountains and (manmade) lake for 16km to Zahara de la Sierra. The picture-perfect village on a stack topped by a castle (worth the climb) has a string of lively bars, and lake views at every turn. Discovery Aventura in nearby Algodonales offers kayaking on the lake and canyoning when possible. The Garganta Verde, a deep gorge that is home to griffon vultures, can be explored with permits from the El Bosque park office. Top choice for dinner (and bed) is Al Lago (doubles from €80 B&B), serving contemporary Spanish cuisine on its lake-view terrace.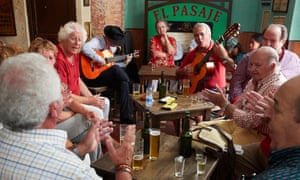 Start day 10 with a 50km drive to Arcos de la Frontera on the CA8102, a beautiful backroad. It's worth spending a night here, to admire its church, castle, narrow streets and Moorish arches, and to enjoy a paseo in and out of the vibrant tapas bars of cobbled Calle Dean Espinosa (don't miss friendly Taberna Jovenes Flamencos at no 11. Stay in the thick of things at La Casa Grande (doubles from €103), which has heaps of character and roof terrace views. Whether you're just eating in Arcos or staying overnight, parking below Plaza España and walking up will save you – and those at tables along the street – much stress.
Day 11 takes you to lovely Jerez (30km on the A382). It's like a bite-sized Seville, not overwhelming, but with much to see and a gutsy flamenco soul. Include the Alcázar with its Arab baths and unsettling pharmacy museum, tapas on Calle Consistorio or Plaza Asunción, and the flamenco clubs of Barrio San Miguel. Stay at La Fonda Barranco (doubles from €50) or Casa Grande (doubles from €60), which both have charm and perfect hosts.
Total distance: 445km
["source-theguardian"]