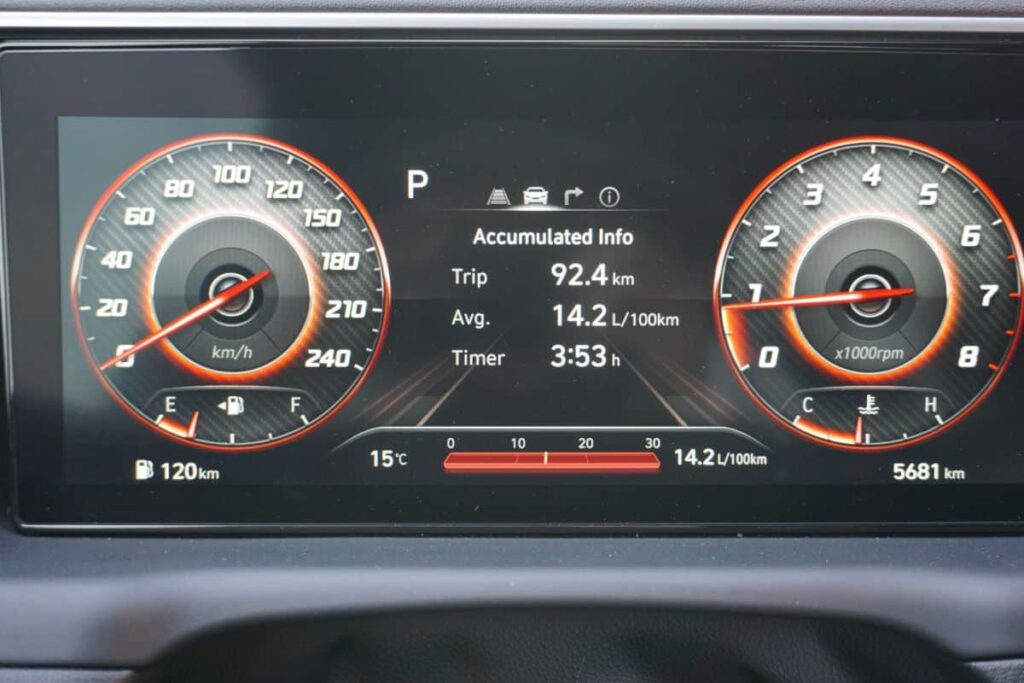 The Carpages Garage has had the privilege of playing host to some pretty spectacular cars over the last several months. Highlights? Well, the absolutely mental Porsche Taycan Turbo S certainly left its mark, and the Honda Civic Type R is always a hoot. The Mercedes Maybach GLS 600 was decadent luxury on a scale for which the likes had previously gone unseen to us, and the BMW M5 Competition still makes a convincing case for itself as the best sports sedan money can buy. All have been memorable in their own way, and each have proven to be effective magnets for the eyeballs of our fellow motorists. Hyundai's new Santa Cruz SAV (or Sports Adventure Vehicle for the uninitiated) car/truck mashup may not boast a sub-three second 0-100km/h sprint or have an onboard fridge complete with crystal champagne flutes, but man did it ever turn heads during our week driving it. You'll be making friends with casual strangers wherever you go because they'll want to know just what it is that they are looking at.
The easiest way to sum the Santa Cruz SAV up is by say that it takes the utility of a truck and splices those capabilities with all the virtues of a car, so you end up with something that can tow stuff and shlep around that mound of topsoil in the bed while enjoying superlative ride quality and the handling (and, of course, fuel economy) of a car. It is an exercise in having one's cake and eating it too.
You see, Hyundai recognizes what Honda and Ford already have with their respective Ridgeline and Maverick car/truck masters of duality, and that is that most folks who 'need a truck' bite off more than they can chew wheeling around in anything offered by the Big Three. It's nice to have payload and towing capacity enough to tug a small yacht around, but if all you are putting back there are the contents of a trip to Costco or towing your Sea-Doo to the marina you might want to be driving something a bit better suited to the job. Think small, in other words.
Before we delve into that, let us talk about what the Santa Cruz can't do. With its front-biased all-wheel-drive system, it will (kinda) pull off the whole off-road thing but do not go following that Ford Bronco down a highly technical singletrack. You know those slow-mo shots of massive steel girders being dumped into the pickup bed where the truck seems to shake as it accepts the massive weight of its cargo? You might want to avoid stuff like that too.
Despite any perceived limitations, we think the Santa Cruz is realistically more versatile than their vastly vaster cousins. It navigates narrow downtown streets and parking garages with ease. It offers creamy ride quality and responds adroitly to steering and braking inputs. With its turbocharged four-cylinder and dual-clutch gearbox on full boil it is decidedly quick but also is also capable of excellent fuel efficiency. Under any circumstance, the Santa Cruz is a model of composed, comfortable motoring. It just so happens that you have a four-foot bed (124 centimetres) with a nifty tonneau cover and a 5000lbs (2,268 kilograms) towing capacity at your disposal as well.
Incidentally, that pickup bed is a jack of all trades for your trades. It will accept a whole sheet of plywood just as easily as it will a couple of mountain bikes. There is a whole plethora of accessories Hyundai will sell you to dial in your Santa Cruz perfectly for what you have in store for it.
Pickups these days are blurring the lines between workhorse and luxury vehicle and while the Santa Cruz is no King Ranch it brings a pretty swanky cockpit to the table in its own right. Your first notice the build quality and the serenity you get when going down the road- wind, road, and tire noise are carefully muted, and everything fits together with obvious precision. We think the digital instrument panel can easily compete with the industry's best, and the amount of features you enjoy like heated and cooled seats is lengthy and comes as a standard kit. Our tester was furnished in Ultimate trim and had every comfort and convenience feature you could want. This SAV is turned out just as nice as any higher-end Tucson SUV, because aside from a nip here and tuck there it is the same exact vehicle north of the C-pillar- behind that is the bed rather than the customary cargo hold.
As a first effort from a brand not known for trucks, the Santa Cruz represents a home run, but it ain't perfect. That truck bed we just mentioned necessitates some pretty heady blind spots and the mail slot rear window does not do much for rear sight lines- but the 360-degree cameras do a lot to make you forget about that niggle. The seats are otherwise wonderfully comfortable perches except for the bit of plastic trim that seems to be there only to quite literally get on the nerves that exist between shoulder blades, at least to our body types. Mechanically, everything is pretty dialed in except for a noticeable dead spot that exists when you stomp the throttle from rest. The combination of laggy step off from the DCT and sleeping turbos necessitate careful planning when trying to get into that gap in traffic- although once underway the drivetrain provides plenty of thrust. Our last gripe feels a bit strange to make because we have rarely leveled any criticism towards Hyundai infotainment systems. This one appears to have sacrificed some function over form because while it's unmistakably slick in how it looks, the lack of buttons (namely a volume and tuning knob) makes for a learning curve in executing basic commands while driving you would not have to contend with in say, the other Santa (Fe) based Hyundai product. It is something you can learn to live but a slightly uncharacteristic misstep just the same.
With all that said, our week with the Hyund-Camino (yes, we took to calling it that after the legendary 1970's car-with-a-truck-bed icon) was largely enjoyable. People fault the Honda Ridgeline for its frumpy styling and the Maverick for its lack of a stout drivetrain and the Santa Cruz has 'em beat on both fronts. It looks fantastic- especially in fetching Blue Stone paintwork- and its powerful turbo-four gives it the grunt it needs to tow things and make passing effortless. The overwhelming consensus of those who drive all say the same thing- that this is just about as much truck as most people will ever need, and it is refreshingly enjoyable to drive. It matters not if you refer to the Santa Cruz as a car, a truck, or a Sports Adventure vehicle. We think you'll just end up just calling it cool like us.
["source=carpages"]