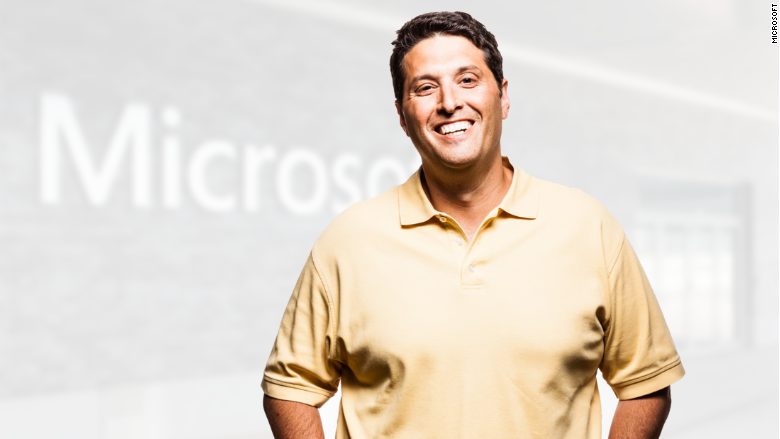 Terry Myerson is going to read this story.
He reads everything that's written about Windows, the crown jewel of the vast empire of software and gadgets that he now oversees as part of a newly expanded role at Microsoft.
In fact, Myerson is hungry for feedback on Windows 10, his team's years-in-the-making operating system that launches on Wednesday.
But Myerson won't like this story because it's about him.
A Microsoft (MSFT, Tech30) employee for 18 years, Myerson is oddly humble for a man whose products are used by more people than any other technology executive's.
Myerson took over Windows Phone in 2011, then the whole Windows team two years later. Last month, he was handed the keys to Microsoft's entire consumer kingdom: Xbox, Surface, mobile and Windows are now all under his umbrella.
Windows 10 in particular is crucial to Microsoft's continued growth: Myerson expects more than 1 billion PCs, phones and tablets to be running Windows 10 by 2018.
In person, Myerson is quiet and reserved. He wore a polo shirt, shorts and flip flops to our interview. He seemed touched that I was typing my interview notes on a Surface. He rolled his eyes and looked away at a question about his recent promotion.
Myerson brought a big dose of that humility to the way he and his team developed Windows 10.
For the first time, Microsoft involved customers virtually from the start of the Windows building process, opening up the Windows 10 preview program to literally anyone. Microsoft solicited their feedback to make the development of Windows 10 truly collaborative (and to try to avoid the mistakes made in Windows 8).
That was Myerson's idea, and he knew it was risky.
He called that decision to open up Windows development "gut-wrenching." Myerson regularly uses beta products in his own day to day work. So he knows how frustrating it can be. So he feared that giving customers an early peak at Windows might permanently scare some of them off.
"I'm in a situation with hardware that barely works, phones that barely work, it's amazing I'm ever able to do email," Myerson said. "But [opening up Windows 10] really did shape the product in significant ways."
Myerson is proud of his team's accomplishment on Windows 10 — he frequently referred to it as "craftsmanship." He sees Google (GOOGL, Tech30) and Apple (AAPL, Tech30) knocking on his doorstep, and he believes that what Windows 10 has to offer is unique.
"We're not trying to lock anybody in; these other guys try to lock people in," he said. "We want millions of happy and engaged Windows customers. Hopefully, customers [of our competitors] will start to appreciate they're being locked in."
But he declined to go further.
"You thought you could get me to make a comment on Tim Cook? It's tempting, but I won't."
[SOURCE- "cnn.com"]