Despite a mildly corporate feel, this Victorian pile in the Lakes redeems itself with historic features and our writer's favourite luxury: TVs in the bathrooms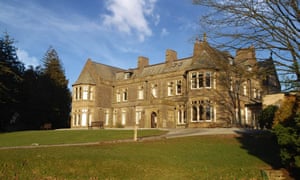 As an atheist, I am unlikely to ever need spiritual guidance in the Lake District. What I do require, however, in an area where hotel room-rates frequently cause me to invoke God's name in volleys of unchristian language, is more value-for-money accommodation.
Therefore it gladdens my heart to see that Villa Levens – a handsome Victorian pile originally built as a family home and then used as a convent until 2012 – has been turned into just such a dependable bolthole. Most tourists head straight for the Lakes' heartlands of Windermere and Ambleside, where, naturally, bedrooms command a premium but here in the relatively unfashionable (and, yes, flatter, less visually striking) southern portion of the Lakes, you can book an unusually spacious, hi-spec double room from £85 a night midweek. Those prices may be less charitable than they were when the Salesian Sisters of St John Bosco ran Villa Levens as a religious retreat, but then they weren't big on Temple Spa toiletries, smart bathrooms, crisp linens and comfy beds.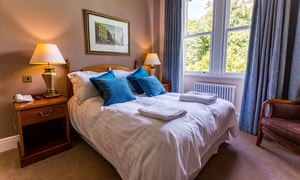 Owned by regional hospitality company the Villa Group, Villa Levens is primarily a wedding/conference venue; one where glossy fliers on each table push Easter Sunday lunch and afternoon teas. Do not book here expecting boutique flourishes.
However, despite its slightly corporate edge, the £3m refit has been executed with a winning, elegant restraint. The interior makes good use of the building's historic features: its central open staircase, focal fireplaces, scrolling plasterwork. Huge windows frame views across Villa Levens' 14 acres of grounds to local A roads (the noise does not intrude) and sheep-dotted hills beyond. A few flashier interior design details (chic monochrome wallpapers, chandeliers), are kept to a judicious minimum and, like the antique ornaments, fit the polished period feel.
If the much-vaunted luxuriousness does not extend to every detail (dull bedroom tea-tray; rudimentary G&T before dinner; my in-room safe doesn't work), it has its moments. For instance, the superior rooms have TVs in the bathroom. Some may find that vulgar, but watching Corrie in the bath is my kind of luxury. Suitably pampered, you can then secrete yourself in one of two lounges – the butch gentleman's club-style Snug would be my preference – by one of several log-burning stoves, which, allied to the ministrations of the obliging staff, make this an undeniably cosy refuge. Note: the main wedding and conference action happens in a separate building, so the house and its 22 bedrooms remain relatively quiet.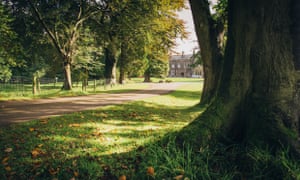 That said, in the dimly lit formal dining room, where linen napkins are still fussily laid in guests' laps, I endured a bizarre soundtrack of orchestral pop covers. Perhaps it is meant to mask the chat drifting in from the adjacent brasserie (the same menu is currently served in both), but I will take laughter over Eye of the Tiger any day.
Luckily, the food distracted me, without it quite hitting a resonant high note. Rather dry soda bread and a bland sticky toffee pudding book-ended the meal disappointingly, but a starter of goat's cheese croquettes with smoked beetroot and charred fennel was a balanced dish of well-judged flavours. A main of roast hogget was reasonably good, a testament to the flavour complexity of older lamb, but I was unpersuaded by the curious mint hollandaise sauce accompanying it.
Breakfast could have been sharper, too. Dull pastries and a rather (pardon the pun) ham-fisted eggs benedict, were very much – unlike those impressive bedrooms – standard hotel fare. But following an invigorating morning run in winter sunshine by the river Kent up to nearby Sizergh Castle, nothing could cloud my mood. Later, I headed into Kendal, which, while not the prettiest Lakeland town (if you want cute, try Cartmel) has, in the likes of hip diner Baba Ganoush, two brewery-taps, the Factory and Burgundy's, or Abbot Hall gallery, its interesting hang-outs. See? In the Lakes, it pays to explore beyond the obvious.
•Accommodation was provided by the Villa Levens (01539 980980,thevillalevens.co.uk); doubles from £85 B&B (from £60 Sunday night). Travel between Manchester and Kendal was provided by First TransPennine Express (tpexpress.co.uk, from £7.20 one-way)
Ask a local
Usha Mistry, project manager, Lakes Culture
•Eat & drink
No trip to Cumbria would be complete without visiting a good pub. Near Kendal, I like the Strickland Arms by Sizergh Castle, which serves big, hearty portions. TheBrewery Arts Centre is also fantastic for drinks, pizza and tapas, and watching independent, cult films in its Warehouse Café.
•Shopping
For local foodie produce, Low Sizergh Barn is a good place to go. It's a working farm so you can watch the cows being milked.
•Outdoor art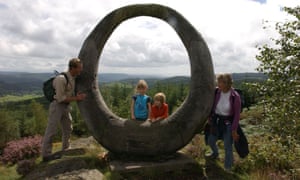 There are stunning pieces to enjoy on the Grizedale Forest sculpture trail, a unique art experience. They wouldn't work anywhere else.
•Walk
Just outside Kendal, you can walk directly up Scout Scar to "the Mushroom", a circular shelter which has the many surrounding fells' names engraved around it. Or you can do a full two-hour circuit via the Wheatsheaf in Brigsteer, a lovely pub that serves locally sourced food.
[Source:- Gurdian]