In early February this year, Destination Cape Breton, the tourist association for the rugged island off Nova Scotia, was fielding its usual one to two online inquiries a week. Then local radio host Rob Calabrese launched a cheeky website called Cape Breton If Donald Trump Wins, encouraging Americans to consider a move. Its home page read: "Hey Americans! Donald Trump may become the president of your country! If that happens, and you decide to get the hell out of there, may I suggest moving to Cape Breton Island?"
The media picked up the story, which quickly went viral, and Destination Cape Breton had to hire extra staff to field 5,000 questions from Americans who were either seriously interested in moving to the island or adjusting their summer travel plans to include a visit. Questions ranged from "What is the process to immigrate to your beautiful island?" to "What are real estate prices like?"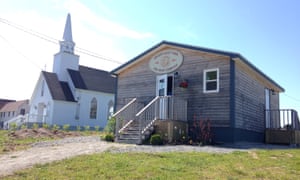 Every summer, Cape Breton (permanent population around 128,000) welcomes about 300,000 tourists. It's a short season – early June to mid-October – and most come to drive the Cabot Trail, the main route around the island, that meanders through treeless expanses and densely forested wilderness, past windswept, rocky headlands and precipitous cliffs that grace postcards. Long stretches of conifers or deciduous trees – and that ubiquitous, rocky Canadian terrain – will suddenly open to reveal quaint villages. Moose sightings are not uncommon. This landscape often puts Cape Breton at the top of "best island in the world" rankings.
Even on days when brisk winds off the Atlantic or Gulf of Saint Lawrence (depending on which side you're on) threaten to blow you over, the island still exudes a sense of serenity.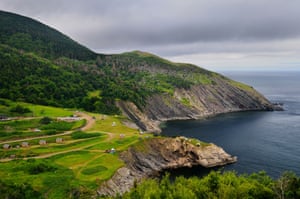 To outsiders, Cape Breton presents the perfect antidote to modern life, either permanently or as a temporary respite. Ben Affleck was spotted here last year during his marriage crisis – it was suspected he escaped to Gampo Abbey, a Buddhist monastery. Accommodations range from rustic – Parks Canada recently installed a suspended cocoon tent at Ingonish Beach – to upscale, like the newly renovated Keltic Lodge, a resort that is steps from a golf course and offers luxurious, two-bedroom suites with scenic views. You'll also find an assortment of cosy inns and B&Bs, as well as Mongolian yurts and geodesic domes at Cabot Shores.
The island has managed to preserve its rich, cultural heritage – Acadian, Gaelic and Mi'kmaq. Perhaps it's because it wasn't connected to the mainland until 1955, when the Canso Causeway opened for cars.
The economy relies on its seasonal window of visitors who cross the bridge now that major industries, such as the steel plant and coal mines, have closed. In fact a rapidly decreasing population inspired Calabrese's idea. "Our island is experiencing unsustainable population decline – this year, 17 schools have been marked for closure," he says, "so the future appears to be somewhat bleak."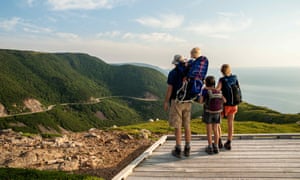 Despite its rural, close-knit community, newcomers are welcomed and referred to as CFAs (Come From Aways). Greg Weir moved with his family from Ontario for the music. An amateur fiddler, he had timed vacations to coincide with the Celtic Colours festival – a popular October celebration of Celtic music and culture – and finally decided to move here.
"It's easy to get involved in the culture here," he says. "You can't go a day without finding music somewhere on the island." Indeed it's not uncommon to go to a pub where live Celtic music (fiddle, guitar, piano, bagpipes) is a side dish to your catch of the day. Hotspots include the Red Shoe Pub in Mabou, the Doryman in Chéticamp and Governor's Pub in Sydney.
Cape Breton has also long been a haven for creative types, a mix of established artisans, like folk artist William D Roach, who you might see carving at Sunset Art Gallery in Chéticamp, and young entrepreneurs, like Jeremy White and Melanie Bock-White, CFAs who started Big Spruce Brewing in Nyanza in 2013 and can't seem to brew fast enough. "We're CFAs, but here by choice and here to stay," says White enthusiastically. "We respect the pride that Capers have in coming from here, and we try to operate our business in a way they can proudly say is uniquely Cape Breton."
Calabrese has since edited the wording on his website to be more inclusive and less provocative. It now reads: "The truth is, we welcome all, no matter who you support, be it Democrat, Republican or Donald Trump."