The pace the e-tron GT can manage is very real; the scenery all blurring together as it rushes past tells me that. The g forces are tangible; my insides pressed up against the back of the seats are sending clear messages to my brain. But barrelling into a corner at a speed well past what I'd call 'sensible', my mind is still trying to compute. It's not everyday you can fling 2.3 tonnes into a corner at high speed with so little drama, and power out of it with even greater speed, with the only indication of the insanity of what you're doing coming from the scrabbling of four Pirelli Cinturato P7s being pushed beyond what they were designed for. This, apparently, is the future. The Audi e-tron GT is my first taste of an all-electric powertrain that isn't packaged in a high-riding SUV. It's eerie. It's actually a Porsche. And I want more.
Audi E-Tron GT: What Is It, Exactly?
It's the first time Audi has borrowed the drawing board from Porsche, and gone to town to create Ingolstadt's electric flagship. The e-tron GT is essentially the Porsche Taycan under the skin, being based on the same J1 high-voltage platform that Porsche developed for it, but with chassis/suspension tuning done independently of Porsche.
Unlike the Taycan, which is also available as single motor rear-wheel drive base variant, the e-tron GT is only available with twin-electric motors, one for each axle, giving it quattro all-wheel drive, and only with the 93kWh gross (84kWh net) battery pack sandwiched between the floor and underbody. It does have the trick two-speed gearbox though, with first being a shorter ratio for acceleration pulls, and second being the cruising ratio – you can't select ratios via the paddle shifters though, only adjust regen braking force.
With 476PS and 630Nm (530PS/640Nm available as a launch control-specific boost that lasts a few seconds), trust that you will be egged on to experience the shorter first ratio quite often, to experience what an all-electric 0-100kmph run in 4.1s is like. The hotter RS e-tron GT cuts that figure to 3.3s, courtesy  bumped up figures – 598PS and 830Nm, or 646PS with the temporary boost engaged. As for range, Audi claim up to 488km (WLTP) on a single charge, with up to 270kW charge capabilities. That's a theoretical 100km of range to gain in just five minutes of charging! But, India doesn't have a single 270kW DC charger yet, so you'll have to rely on the standard AC 11kW charging rate with the included wallbox, or any of the commercially available 25 or 50kW chargers.
Audi E-Tron GT Styling
The Tactical green metallic shade on this particular e-tron GT may not be doing it many favours but it's still entirely captivating in its sheer size and ground-hugging form. Just how close to the ground? The e-tron GT sits just 1,396mm tall, which for a 4,989mm long and 1,964mm wide car really does give one the impression that it's landed from sometime in the future. There was worry about its ground clearance but with short overhangs and a relatively high front lip, the car could be reversed off its transport flatbed with no fuss.
The shape of the e-tron GT, with its active aero flaps for the brakes and radiators in the air dams, and fully closed underbody makes for a 0.24 coefficient of drag, which puts it just behind the 0.22Cd of the Porsche Taycan, itself the most aerodynamic Porsche. Somewhat of a letdown when you really lean in for a closer look, are the 20-inch aero wheels with their tacked on plastic shrouds, because they're otherwise very striking and befitting the effortlessly futuristic character of the e-tron GT.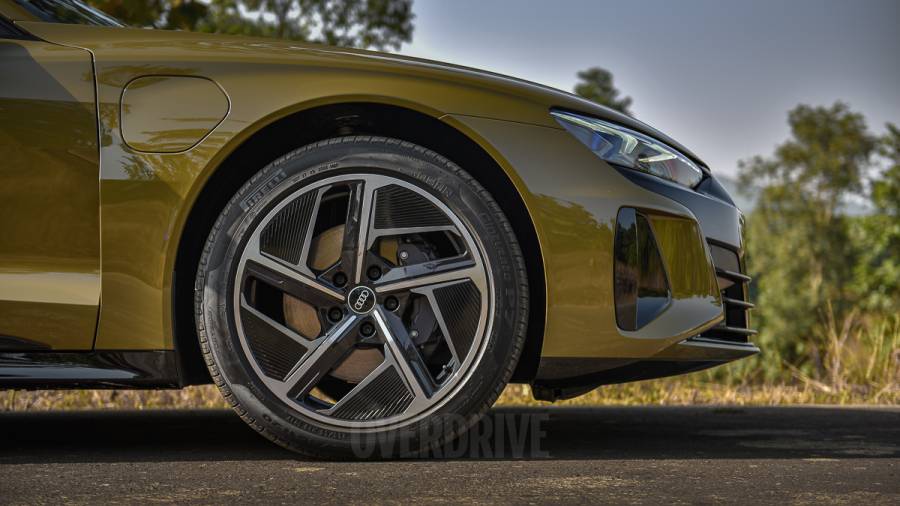 Audi E-Tron GT Interiors
If the exteriors are classic Audi of the not-so-distant future, the interiors are very much present-day Audi – supremely well-made, functional and minimalistic. They've even done away with the dual touchscreen setup as on the Q8, for example. It's probably better for it when it comes to actual ease of use, but there's no denying the flash value of that system versus the physical buttons and switches in the e-tron GT. The highlight is of course the greatly supportive sport seats that let you drop really low "into" the car should you so choose, giving you the feel that you're piloting something special.
And if it wasn't such a sunny day, we'd probably have nicer things to say about the full-length fixed glass roof sans a retractable cover, which cuts out a lot of the heat itself, but does let in warmth when the sun's overhead. The optional carbon fibre roof would probably be a safer spec for our conditions, not to mention a more exotic one. Though that could run the risk of making the cabin feel a little more cosy than its actual space would suggest.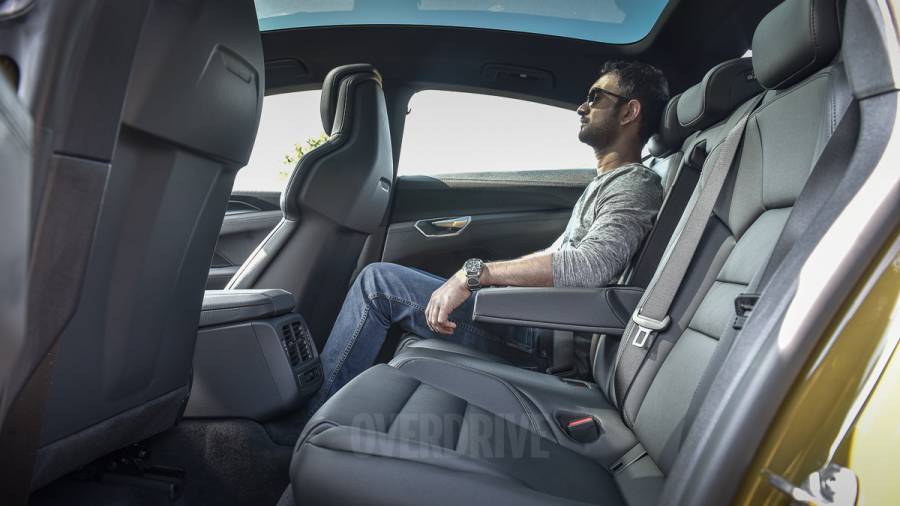 Because space itself isn't in short supply, with comfortable levels of knee room and headroom at the rear (despite the low roof and batteries in the floor), though the seat back feels a little too upright for what's meant to be a grand tourer. Similarly, the 405-litre boot (well down on the e-tron SUV's 605-litres), while square will only be adequate for a weekend away with the family, even if it is larger than the 366-litre boot on its sibling from Stuttgart.
Audi E-Tron GT Driving Impressions 
The first thing that stands out, within feet really, of driving the e-tron GT is the fluidity with which it drives – there's a beautifully measured and well damped feel to the throttle and brakes, and in the way it rides, that belie the lurking performance. In the meekest of its drive modes and at low speeds, there's a sense of isolation from the world that does indeed make you feel like Audi's come up with the greatest grand tourer ever. And then you put your foot down.
You really will tend to double down on that impression then! This thing is so, so quick it really does require recalibration of your throttle foot, your brake foot, and even your steering inputs – corners have a funny way of reappearing closer to you than initially planned. And because of the lack of relative drama, g forces aside, it all starts to feel a little clinical after the novelty of creating small gaps in the time-space continuum wears off. But Audi has somewhat of a fix for that too. It's called Dynamic mode.
This turns up the volume of the simulated drivetrain sound being routed into the cabin in the middle of the car, and outside of it, via twin loudspeakers at the front and rear, and makes it sound like a turbine-powered spaceship. Audi's put a lot of effort into making the e-tron GT sound unique, with inspiration coming from everything from helicopters to wind through pipes! This also keeps the car in its shorter first ratio on the gearbox, which means you don't feel the split second hesitation when it kicks down that you otherwise do in the other drive modes. It all comes together to make the acceleration even more intense. In some scenarios it's actually required because the drive experience of the e-tron GT in its lesser drive modes can sometimes feel like it's lacking in drama. I guess that's what you'd want from a grand tourer, because the GT definitely feels more at home cruising along corners very quickly than bombing down your favourite set of twisties.
That's partly down to the typically-Audi inert steering, which only has added weight in the Dynamic mode, making for a drive that can be very quick, but not highly engaging. Which is a shame because there is a lot of grip on offer, and the GT with its quattro all-wheel drive and torque vectoring can really bite deep into the tarmac and shoot out of corners, whilst feeling nearly level. There is some lean in corners when you're really pushing, and it's possible to tend into understeer on sharper corners, but for the most part, the turn of pace possible is probably second to none given how exploding the electric torque is. On the right road, the e-tron GT will no doubt hang with sports cars despite its 2.3 tonne kerb weight, but the GT driver probably won't be having half as much fun.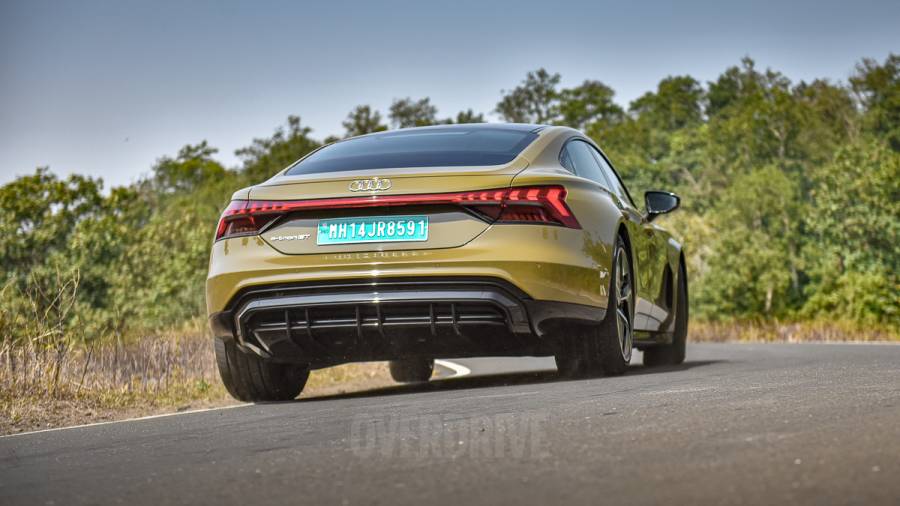 Where the GT would shine – we had a short limited drive in it – is over longer distances. With its three-chamber adaptive air suspension, it's very comfortable. I'd even go as far as to say plush, despite the low profile rubber, with only sharper bumps filtering through. As for the range, we'd have to wait for a longer stint in the car to comment though we're told the car can comfortably manage a restrained Mumbai-Pune run which is about a 250km roundtrip with just under half the battery capacity in reserve.
Audi E-Tron GT Initial Impressions 
The base Audi e-tron GT priced at Rs 1.80 crore, ex-showroom, probably represents less value than the RS e-tron GT at Rs 2.04 crore, which comes standard with a lot of the extras that were specced on the GT we drove. Things like a rear locking differential, the adaptive air suspension, high-end Bang & Olufsen audio, 360-deg parking camera are all standard on the RS. Either model could also be specced with rear-wheel steering to enhance agility, though the standard car feels quite pointy as is. As a taste of a sportier all-electric future than the SUVs we've had in India so far, the e-tron GT feels a little underwhelming. But as a comfortable, silent grand tourer which can surprise with its handling prowess, which let's face it, is what the GT actually is, this flavour of e-tron absolutely nails it.
["source=overdrive"]