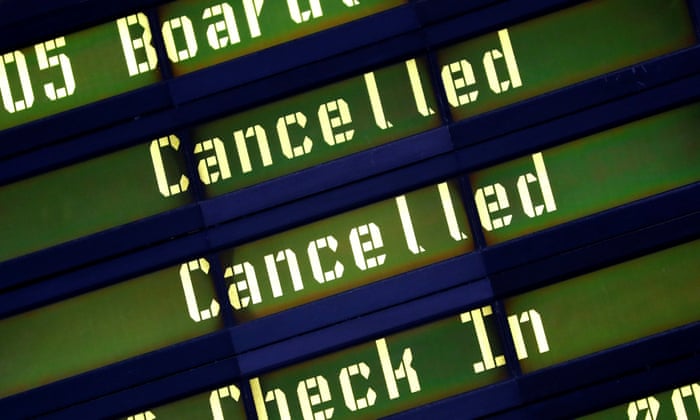 Cancelled flights are just one of the woes that can disrupt a holiday – but getting compensation isn't always straightforward. Photograph: Fabrizio Bensch/Reuters
In the coming week thousands of holidaymakers will be returning to drudgery. Not just to the day job but the baffling, often futile, attempts to claim redress for a ruined trip.
As holidays become ever easier to book online, more travellers are finding their idyll becomes a nightmare due to incompetence, indifference or downright fraud. Here are some of the most common problems, and how to put them right.
Airlines
When David Harrison arrived for his return Jet2 flight to Leeds from Paris, passengers were issued with a letter stating that the flight had been cancelled for "unforeseen operational reasons". They were given the choice of applying at the Jet2 ticket desk for a transfer to the next available flight, or a refund. There is no Jet2 ticket desk at Charles de Gaulle airport, airport staff could not help and calls to Jet2 customer services rang out unanswered.
Harrison and his partner eventually paid €460 for a flight to Manchester and then had to pay for a taxi to their car at Leeds airport. He says none of the passengers were offered refreshments or assistance.
Jet2 blamed "disruption caused by reasons beyond our control" and told the Observer it would refund "reasonable" costs.
Harrison's is a story that will be familiar to thousands of others who will have been left stranded after their flights were grounded by strike action, or other obstacles.
In theory, if the flight was to or from an EU country they are entitled to food, accommodation and travel expenses. They should also receive compensation of up to €600, depending on the length of the delay and the flight, unless it was due to an "extraordinary circumstance" beyond the airline's control.
The EU directive, which sets out these rights, is vague about what constitutes an "extraordinary circumstance". Recent court rulings have excluded, among other things, wildcat strikes by staff, technical problems and understaffing.
In practice, many airlines will employ a range of tactics from silence to duplicity to avoid paying. Some, like Jet2, fail to specify the cause of the cancellation, or provide several differing ones during the course of a claim.
If you are delayed three hours or more on an EU flight, check how much you are owed and then write to the airline citing EU directive 261/2004. The Civil Aviation Authority (CAA) has a template. Don't, at this stage, be lured by the many websites offering to claim on your behalf. They'll take a large cut of any payout.
If the airline refuses to pay up, go to the alternative dispute resolution (ADR) scheme they subscribe to. There's a full list on the CAA website. If, like Jet2, they have refused to sign up to a scheme, the CAA will consider your case. The last resort is to make a small claim through Money Claim Online, which costs £20-£60.
Car hire
A fortnight after returning his Europcar hire vehicle, Andrew Bell was told that he'd been charged £564 for a scratch "between 75-150mm" long. Over the ensuing months, Europcar first claimed it could not process damage claims as it was reviewing its processes and then, that its systems were down. Europcar refunded him after the Observer got involved and admitted photographs had not been retained due to an "administrative error".
Car hire firms are notorious for slapping on unannounced charges. These can be for insurance policies or disputed fuel shortfalls.
But it's unspecified, unprovable damage that is the biggest concern. In June, Leicester trading standards began investigating allegations that Europcar, in a deal with suppliers, inflated repair bills by up to 300%. The French-owned firm has set aside £40m for potential payouts.
Most car hire contracts allow firms to help themselves to extras from customer credit cards. If they fail to prove the damage charges to your satisfaction, tell them you are paying "under protest" and try to reclaim from your card issuer via section 75 of the Consumer Credit Act. The European Car Rental Conciliation Service can help with disputes in Europe. If in the UK, the British Vehicle Renting and Leasing Association runs a government-approved service, but only if the hire company is a member.
Accommodation
When Rashid Mahmood and his young family arrived at their hotel in Antalya, Turkey, he was told that it was overbooked and that, despite having prepaid for two rooms through Booking.com, he would have to go elsewhere.
It was 2am and the foursome had to drag their suitcases across town looking for a bed. Booking.com refused to reimburse him for the £47 room he finally secured, stating that he should have called them from Turkey in the small hours to resolve the problem. Their booking confirmation did not provide a number.
Priceline – which owns Booking.com – and Expedia have, between them, hoovered up 80% of Europe's online travel bookings. Such third-party websites tend to avoid responsibility for failed reservations or misrepresented hotels by claiming the customer's contract is with the provider, not with themselves.
The Package Travel and Linked Travel Arrangement Regulations, brought in last month, protect those who buy more than one component of their holiday from, or via, a single operator. But if you simply book a hotel room through a price comparison site, redress is less clear cut.
Last month the Competitions and Markets Authority announced possible legal action against several unnamed websites. Yet, while the law says such companies must point dissatisfied customers to an ADR scheme, they're not obliged to sign up to one, and there's no regulator governing the sector. Last year complaints rose 40%, according to complaints-handling website Resolver, and Booking.com – which has declined to subscribe to an ADR – was the worst offender. Things have got so bad, Martyn James at Resolver recommends travelling with up to £1,000 on your credit card to cover costs if you're left stranded.
Travel insurance
Juliet Taylor was diagnosed with a kidney tumour while on holiday in Cape Verde. Her travel insurer would only fund a third of her treatment, leaving her with a bill of £30,500 because she had failed to declare a single prescription of sleeping tablets. "I bought a policy that promised to cover me for 'unforeseen accidents and illnesses' and the tumour was totally unforeseen," she says.
Every year thousands of travellers find that small print excludes them from payouts. The proliferation of comparison websites encourages them to choose the cheapest and the cheaper the options, the more numerous the exclusions and limitations in the terms and conditions. Basic policies exclude payouts if an airline goes bust, if the insured is found to have alcohol in their blood after an accident, or if they forget to declare a minor medical condition unrelated to any claim.
Read the small print thoroughly before you lodge a complaint about a failed claim. If the claim is still rejected or unresolved after eight weeks, you can take it to the Financial Ombudsman Service which can find in customers' favour if it decides crucial terms and conditions were not flagged up.
Since you're here…
… we have a small favour to ask. More people are reading the Guardian than ever but advertising revenues across the media are falling fast. And unlike many news organisations, we haven't put up a paywall – we want to keep our journalism as open as we can. So you can see why we need to ask for your help. The Guardian's independent, investigative journalism takes a lot of time, money and hard work to produce. But we do it because we believe our perspective matters – because it might well be your perspective, too.
The Guardian is editorially independent, meaning we set our own agenda. Our journalism is free from commercial bias and not influenced by billionaire owners, politicians or shareholders. No one edits our Editor. No one steers our opinion. This is important because it enables us to give a voice to the voiceless, challenge the powerful and hold them to account. It's what makes us different to so many others in the media, at a time when factual, honest reporting is critical.
["Source-theguardian"]