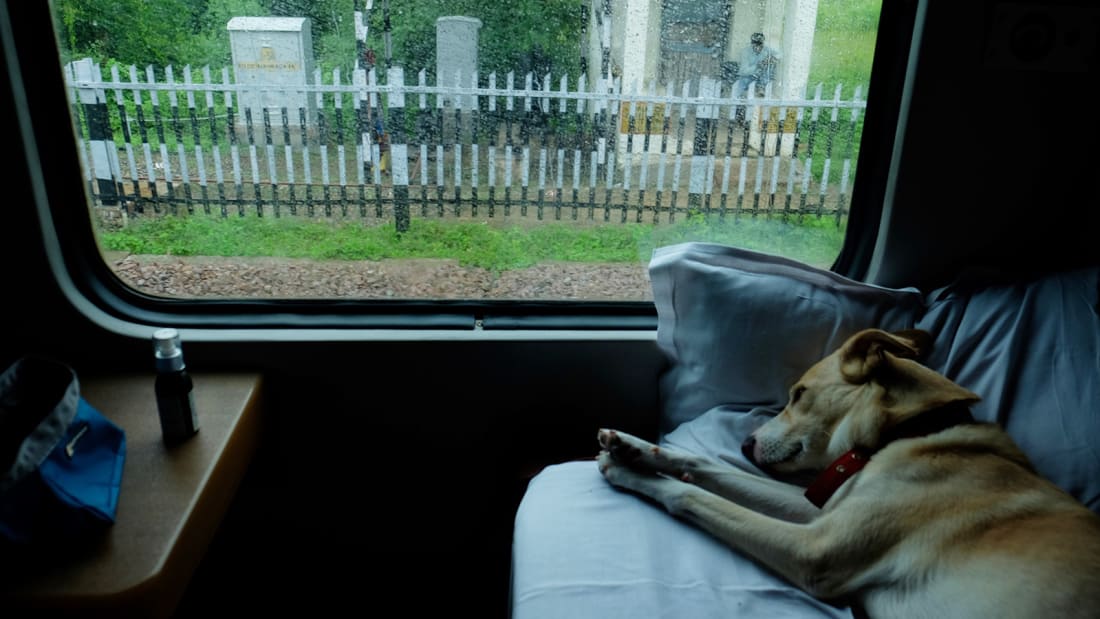 (CNN) — It's a cool November morning, and my husband and I are waiting at a crowded railway station in New Delhi, India, about to set off on yet another journey with our furry travel companions, Marco-polo and Tigress.
Now accustomed to train travel, the dogs are eager to board the first car they see.
A sea of people stares at us, some asking why we are traveling with them, laughing at us. Others question us about the dogs' breeds — a mixed coonhound and an Indie. More people come over to join the circus, asking if they can take selfies with us and our dogs.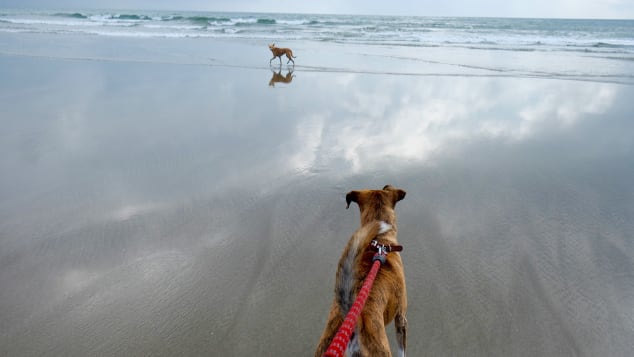 Divya Dugar/CNN
It all started eight years ago when I rescued Tigress from the street in my home city, New Delhi. Shortly after came Pondi, a little chubby pup that followed me home. And then we added the naughtiest of the lot to our crew — Marco-polo.
I was heartbroken when I'd have to leave them home while I traveled to a far-away destination.
So when our dog Pondi passed away in 2016, I decided to travel with Tigress and Marco-polo to heal, giving us a chance to spend more time on the road as a family and to create awareness about rescuing and adopting Indian dogs.
During our first trip to Goa, we realized what fantastic travel companions dogs can be.
It was like having two fresh new pairs of eyes to see the world with, whether we were rediscovering our love for train travel, experiencing the joy of taking our pets to the beach for the first time or seeing them running in the wilderness.
By the end of our five-week trip, we knew this was just the start of what would become many India adventures with our furry travelers.
We've now been on the road on and off for a year.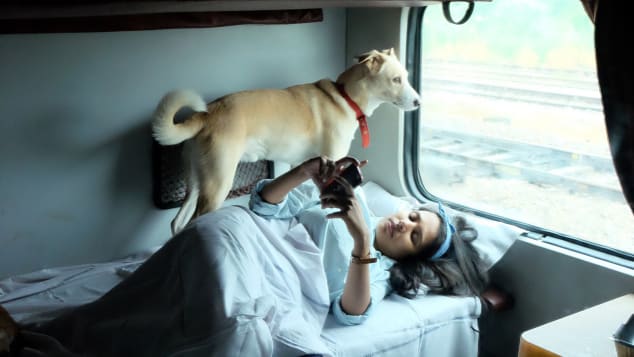 Olivier Telle/CNN
Challenges and rewards
Traveling with dogs in India, which is not the most pet-friendly nation, does have its challenges.
People have shouted at us. We've been mocked, too.
In a small village in Rajasthan, a large group of people in a market stopped to look at us and laugh. But mostly we're met with curiosity, many approaching to ask why we're traveling with two Indian dogs and why we adopted them.
When we started to share our journey on Instagram, it was encouraging to receive notes of support and applause from pet parents across India.
Every day I receive messages from followers relating to train travel, some offering suggestions for pet-friendly hotels. Others say our images have motivated them to also travel with their pets.
Train travel with pets in India: Tips and tricks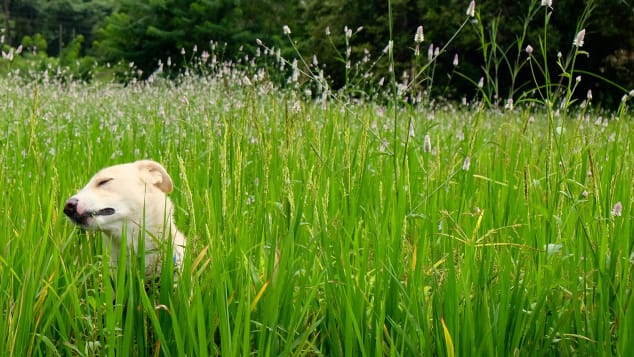 Divya Dugar/CNN
We mostly travel by train, a great and convenient way to explore India with your dogs.
To make sure Marco-polo and Tigress are allowed to travel in the car with us, we book First Class train tickets and then get a coupe allotted to us.
According to the rules, you can only bring your dogs on the train if you book a complete First Class cabin (four berth) or coupe (two berth). More info is available on the official Indian Rail website.
A few days before the journey, we write to the Chief Commercial Officer to ensure we get allotted a coupe.
You also need to register the pet at the parcel office at the railway station before departure, but it's not necessary for the dog to be physically there.
In terms of pet-friendly accommodation, we mostly switch between Airbnb, homestays and small hotels.
We've enjoyed some great hidden retreats like The Goat Village in Uttarakhand, which consists of locally crafted stone houses set against the backdrop of the Himalayas.
It was a blissful experience waking up to a glorious sunrise, walking in wilderness with Marco-polo and Tigress and just huddling together at night, gazing at the stars by the bonfire. They have an amazing farm-to-fork food experience too.
Another great find was an untouched haveli hotel called Narayan Niwas Castle in my home region of Shekhawati.
We stayed in a suite with fabulous frescoes adorning the walls and big window seats that looked out over the main entrance — a perfect people-watching spot for our curious pets and their human parents.
We spent a week exploring different courtyards, gardens and narrow passageways at the hotel, each evening having a meal on a different terrace.
Here are a few other dog-friendly properties in India that stand out for their location, welcoming attitude and love for animals.
Tree of Life Resort, Jaipur
This was our first luxury staycation with pets, close enough to New Delhi for a weekend getaway.
With ample space to move around the resort, each room has its own garden and some even come with private pools.
They serve fresh meals for canine friends, which our pets relished.
Tree of Life Resort, Kacherwala, Kukas, Jaipur, Rajasthan 302028, India; +91 96020 91000
The White Peaks, Gagar
The White Peaks is a beautiful private cottage in the hills of Gagar, Uttarakhand, founded by Aparupa Ray Ganguly, mother of two beautiful rescue dogs, Maya and Mowgli.
It's a great place to enjoy walks in the surrounding oak and rhododendron forest with your dogs.
Travelers get the entire cottage to themselves, while freshly cooked meals are served for pets.
The White Peaks, Gagar, Uttarakhand 263132, India; +91 98100 50514
Dune Eco Resort, Puducherry
An eco-resort spread over 35 acres, each room merges the outdoors with inside decor, giving ample opportunity for your pet to move around. Our favorite rooms are Artist Studio 1 and Nawabi House.
They serve pet-friendly meals and dogs are allowed in restaurants and around the property.
["Source-edition"]