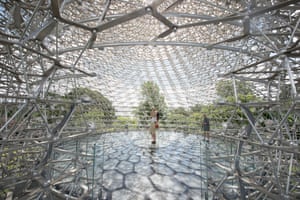 The Hive, an ethereal 17-metre tall installation designed by artist Wolfgang Buttress, which rises above a wildflower garden. The immersive audio-visual experience tells the story of the honey bee and the importance of pollination.
Fun fact
The intensity of the sound and the hundreds of LED lights inside the walk-in Hive pavilion rises and falls in response to the activity of the real hive, hidden away behind the scenes at Kew.
Best thing about it?
The top temptations for kids include the Treetop Walkway 18 metres above the ground, the Climbers and Creepers play area for younger kids, and the Log Trail assault course. And there are dozens of family-friendly events and activities put on throughout the year.
What about lunch?
This is surely the most picturesque picnic spot in London, but there are also four self-service restaurants/cafes serving food that's superior to the sort of fare on offer at most attractions: think cinnamon, mint and pomegranate-braised spring lamb (£12.50 or £4.95 kid's portion) rather than burger and chips. In winter, theOriginal Maids of Honour bakery/cafe, outside on Kew Road, is a good place to warm up with a hot chocolate after visiting the gardens. It is steeped in history (the name refers to Anne Boleyn's maids) and serves heavenly scones.
Value for money?
A reasonable £14 for adults, given you can spend a whole day here, and only £2.50 for kids under 16 online (£16/£3.50 on the gate). If you live close by, the friends price (£90 a year for two adults plus two guests and kids free) is one of the best deals in London. I've been a member for six years and am still discovering secret corners of the gardens.
Exit through the gift shop?
It's rather a good (if pricey) one, though you're not funnelled through it and little of it is aimed at kids.
Getting there
Kew Gardens tube station (District Line and London Overground) is 400 metres from the Victoria Gate entrance. Train services from Waterloo, via Vauxhall and Clapham Junction, stop at Kew Bridge station, 800 metres from Elizabeth Gate. Amazingly for such a busy and posh corner of London, parking is free right outside the gates every day after 10am.
Opening times
Every day except 24 and 25 December; gates open at 10am, closing times vary.
The verdict
As an attraction, 9.5/10 – it only fails to score top marks because, tragically, the deafening planes coming in to land at Heathrow shatter the serenity every couple of minutes. As a kid's attraction, I'd give it 8 or 9.
[Source: Gurdian]